The need for a user-friendly and professional looking website has led to the emergence of various website builders, each promising to simplify the process of web development and design. 
Among these platforms, Cargo competes with its innovative approach to creating websites. It has gained attention for its smooth blend of creative flexibility and intuitive website functionality. This comprehensive review we test Cargo website builder, highlighting its features, performance, ease of use and pricing. 
What is Cargo?
Cargo is a website builder that provides a platform for creating and designing websites with a focus on visual aesthetic and user-friendly functionality. It offers a range of tools and features that enable individuals, artists, designers, photographers, and businesses to create professional-looking websites without the need for coding or technical skill. 
Cargo's interface is designed to facilitate the smooth arrangement of content, including images, text, multimedia, and interactive elements, allowing you to showcase your work, products, or ideas in an engaging and visually appealing manner. Through its intuitive drag-and-drop interface and customizable templates, Cargo enables you to craft unique and dynamic websites that reflect your creative ideas.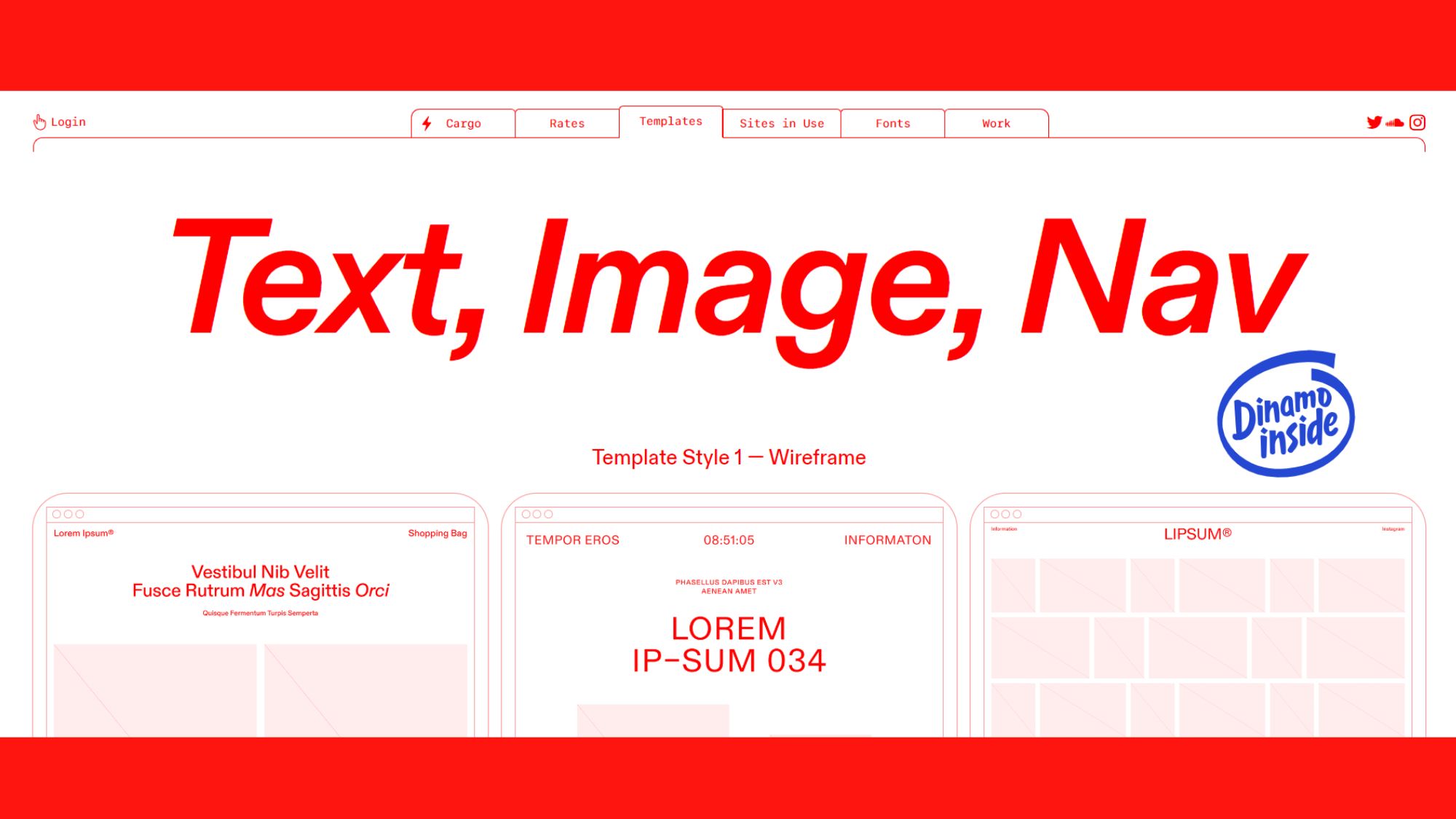 Features
Cargo website builder offers a wide range of robust features that empowers you to create professional-looking and functional websites with ease. The platform's content editing capabilities allows you to seamlessly update and refine your websites, ensuring that the latest information, projects, or products are readily accessible to visitors. Through a user-friendly interface, content manipulation becomes an easy process, enabling efficient website maintenance.
Design and layout customization is at the core of Cargo's offerings, granting you the freedom to experiment with various templates, fonts, color schemes, and styles. This versatility ensures that every website maintains a distinct visual identity, catering to diverse tastes and purposes.
The integration of image galleries within Cargo facilitates the creation of picture galleries and videos. You can effortlessly curate and display your portfolios or showcase products through interactive slideshows, enhancing engagement and aesthetic appeal. The thumbnail index feature complements this by providing a structured overview, enabling visitors to quickly navigate through multiple images and content sections.
Seamless navigation is enhanced through linking capabilities, allowing users to establish connections between different pages, sections, or external resources. This feature facilitates complete browsing experience, aiding visitors in discovering related content effortlessly.
For anyone venturing into online selling of goods and services, Cargo offers ecommerce functionality. This allows you to showcase and sell your products or services directly through your website, streamlining the purchasing process for potential customers and maximizing revenue potential.
The stacking and pinning features provide precision in content arrangement, granting you the ability to layer elements to create dynamic and visually engaging layouts. Stacking enables the overlay of different elements, giving you a sense of depth and interaction, while pinning ensures certain elements remain fixed during scrolling, maintaining their visibility and impact.
Cargo's backdrop feature adds another layer of customization, enabling you to apply backgrounds that harmonize with your content. This ensures a consistent and immersive visual experience throughout the website.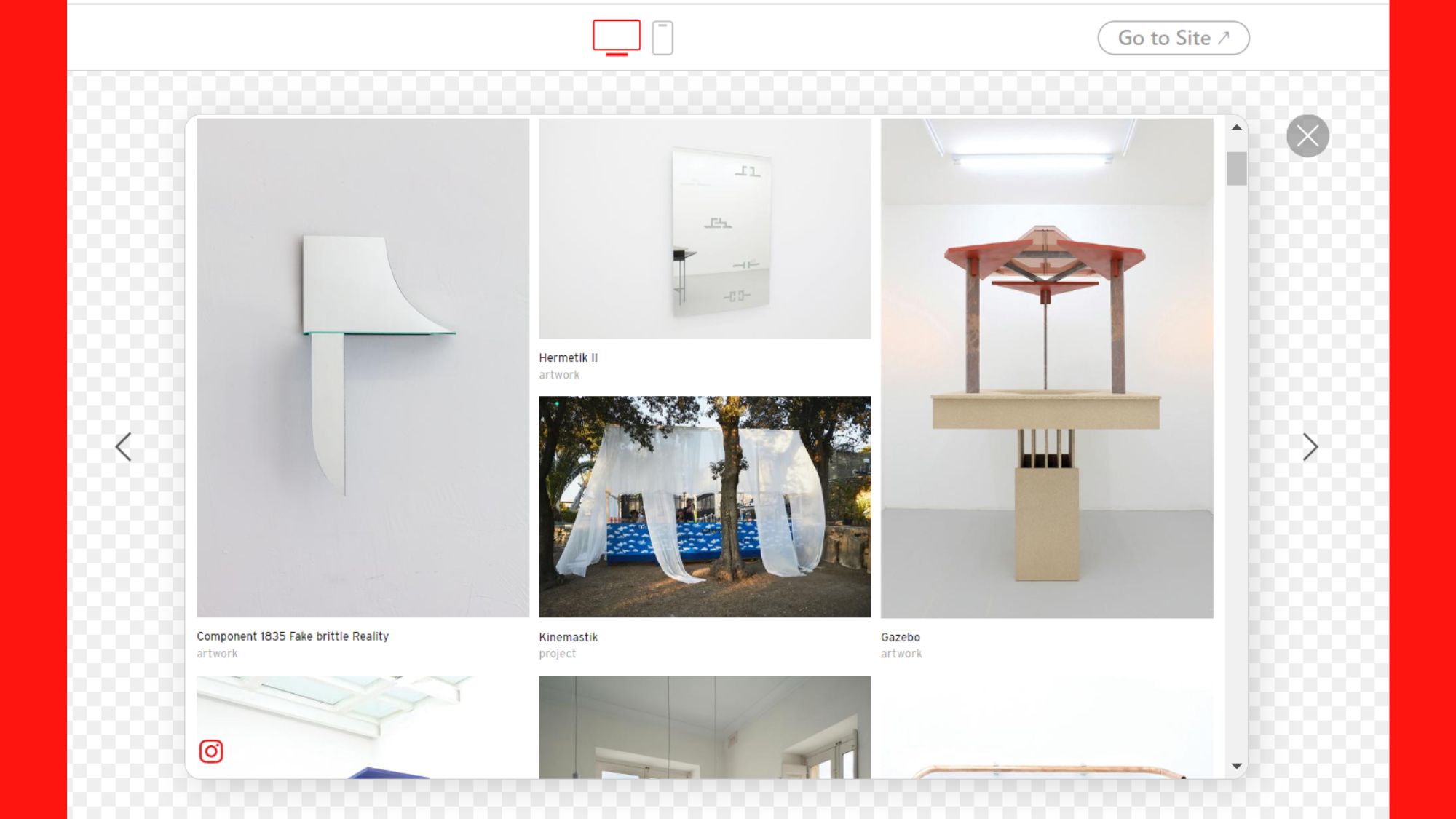 Cargo's ease of use is a key factor that contributes to its appeal as a website builder, particularly for individuals and businesses seeking a streamlined and intuitive web development experience. The platform's user-friendly interface and simplified tools allows you to create and design websites without the need for extensive technical knowledge or coding skills.
The drag-and-drop functionality is at the heart of Cargo's ease of use. This allows you to effortlessly arrange and position elements on your web pages by simply dragging and dropping them into place. This intuitive approach eliminates the complexities of manual coding and formatting, enabling you to visualize and create your website's layout in real-time.
Cargo offers a range of customizable templates, each designed with various industries and creative niches in mind. These templates provide you with a solid foundation to build upon, allowing you to easily tailor your websites to match your unique style, brand, or content. You can customize fonts, colors, images, and more with straightforward controls, ensuring that the final design aligns with their creative vision. The menus on the dashboard are well spelt and easy to find and navigate.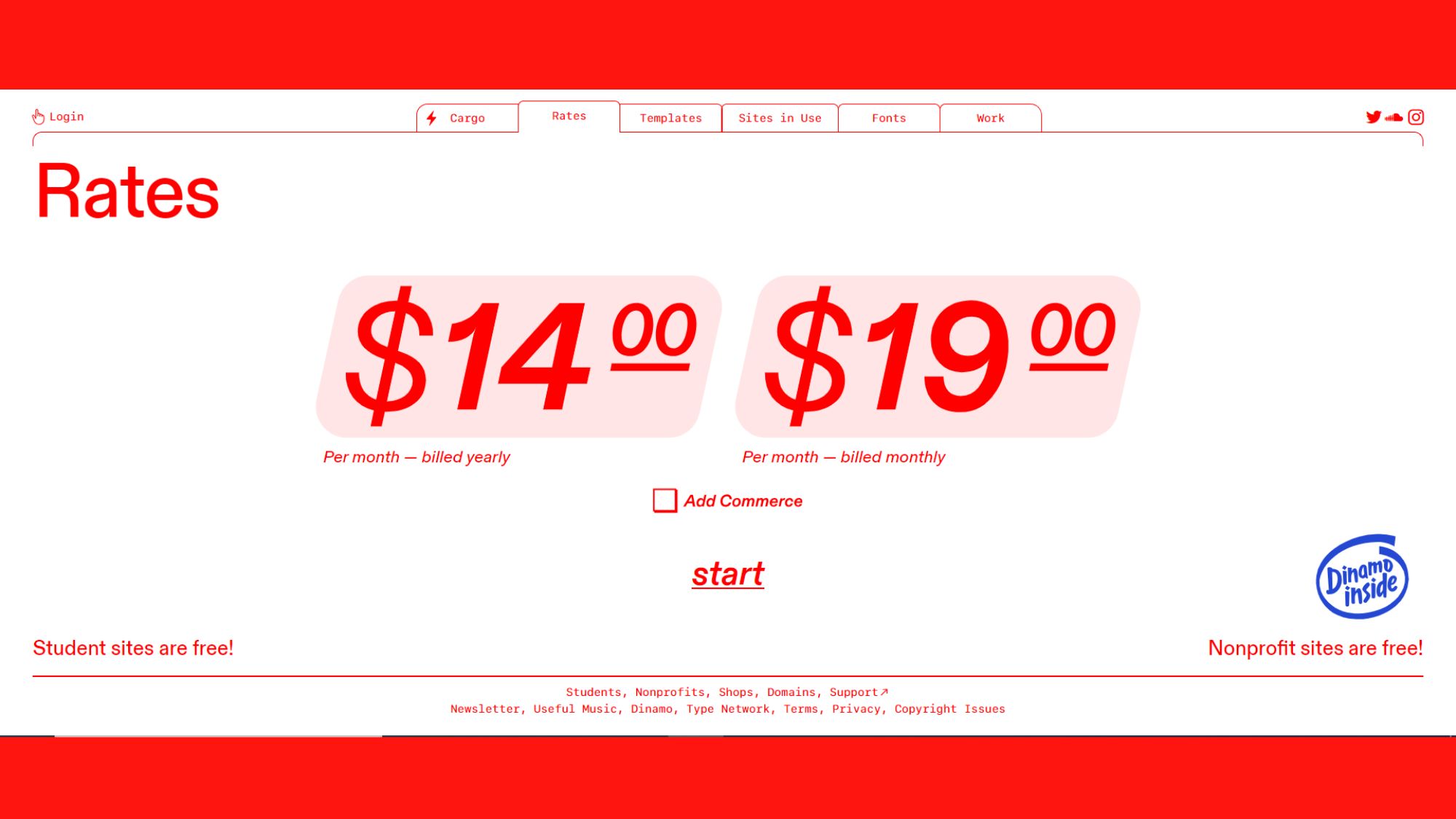 Pricing
Cargo presents a straightforward approach to its pricing structure, offering you two distinct pricing plans, each available for both monthly and annual billing cycles. This ensures that individuals and businesses can make informed decisions based on their specific needs and budgetary considerations.
The initial pricing tier, the first plan, stands at a reasonable $14 per month. However, for those looking to go into ecommerce, the plan starts at $19.50 per month. This plan is tailored to accommodate the ecommerce features of the platform, providing a range of tools to facilitate online selling.
If you want more features, the second plan priced at $19 per month, opens the door to a wide range of enhanced functionalities. The ecommerce features of the second plan goes for $28 per month. 
It is important to note that Cargo extends its generosity to education through its student sites offering. For students looking to showcase their work, projects, or ideas, this specialized offering allows them to make use of the power of the platform completely free of charge. This serves as Cargo's commitment to nurturing and empowering the next generation of creators and entrepreneurs.
The competition
Cargo website builder has a lot of competitions and these competitors cater to individuals, businesses, and creatives seeking to establish a compelling online presence. Here are some of the notable competitors that Cargo contends with:
Wix is a widely recognized website builder known for its user-friendly interface and extensive template library. It offers a drag-and-drop editor, customizable designs, and a wide range of features, including ecommerce functionality, blogging tools, and third-party app integrations.
Squarespace is another popular platform that emphasizes design and aesthetics. It provides elegant templates, responsive designs, and an array of tools for artists, photographers, blogging sites, and businesses. Squarespace is known for its visually appealing templates and its focus on creative industries.
Weebly offers a simple drag-and-drop interface along with ecommerce capabilities, making it a suitable choice for entrepreneurs and small businesses. It provides a balance between user-friendliness and customization, allowing you to create functional and visually appealing websites.
While primarily an ecommerce platform, Shopify offers website building capabilities as well. It's especially suitable for businesses looking to sell products online. Shopify provides a robust ecommerce framework with customizable themes and a wide range of apps and plugins.
WordPress is a versatile and powerful platform that offers both WordPress.com (hosted) and WordPress.org (self-hosted) options. While it requires a bit more technical know-how, it offers extensive customization through themes, plugins, and coding for those who want more control over their website. Webflow is known for its design flexibility, allowing users to create visually stunning and interactive websites without writing code. It's popular among designers and developers looking for creative freedom and control over design elements.
Jimdo is geared toward small businesses and entrepreneurs. It offers a straightforward interface with a focus on ease of use and customization. Jimdo provides ecommerce website builder features, templates, and SEO tools.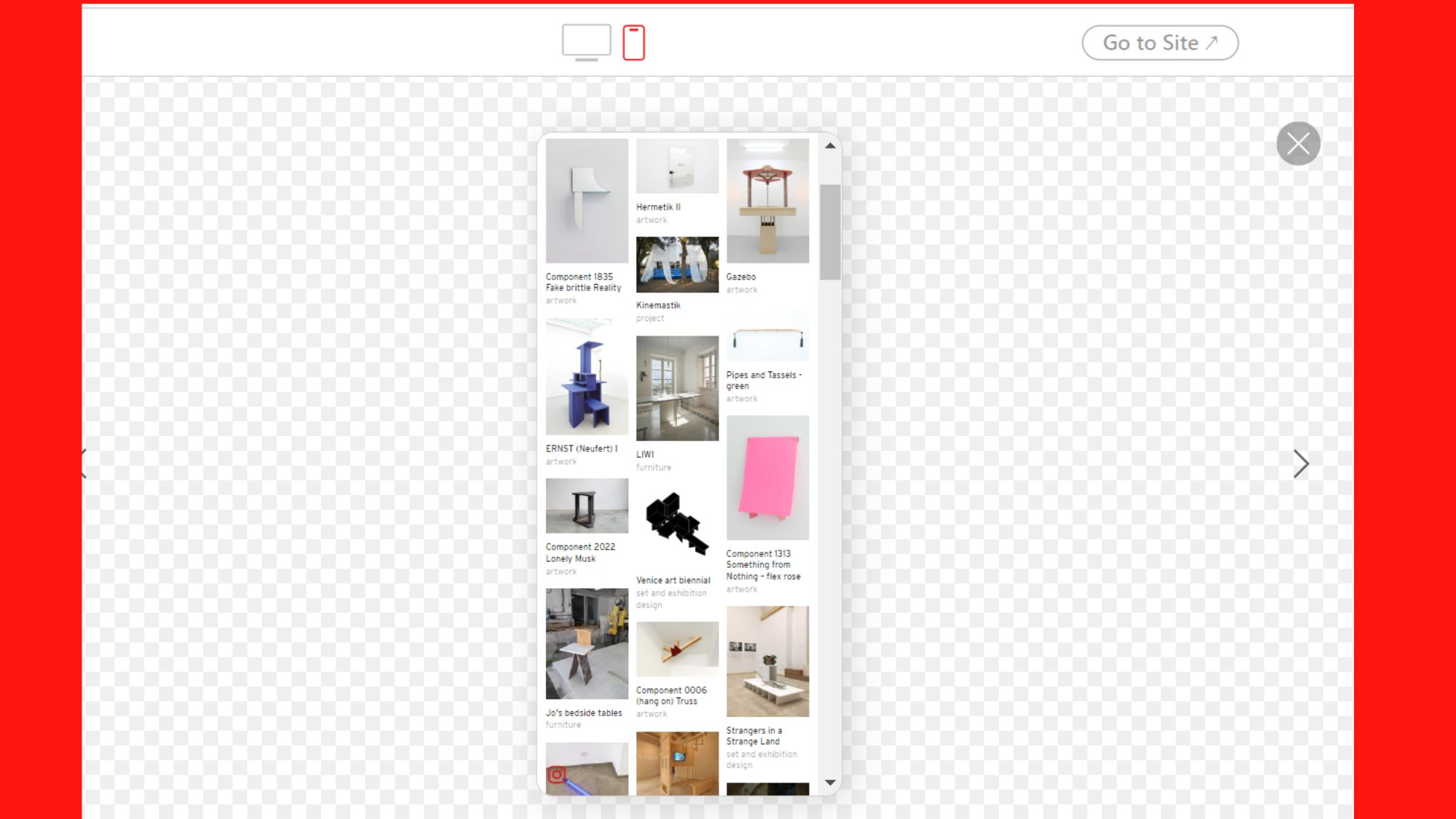 Final verdict: Is Cargo right for you?
Cargo's website builder stands out as a user-friendly tool for creating captivating websites without complex coding. With a focus on visual appeal and creative freedom, Cargo empowers individuals, artists, and businesses to showcase their work online. 
Although its performance and pricing are competitive, its ease of use and customizable features shine. Against rivals like Wix and Squarespace, Cargo's unique strengths make it a solid choice for those seeking an impressive online presence. In a world where a strong digital identity matters, Cargo offers an accessible and effective platform to bring imaginative visions to life on the web.