Flyksoft Launches Brand New Website Before Their Software and App and Marketplace is Ready to Launch in 2 Weeks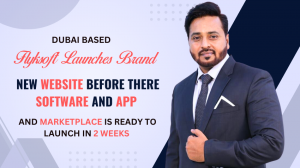 Dubai Based Flyksoft Launches Brand New Website Before Their Software and App and Marketplace is Ready to Launch in 2 Weeks.
Dubai-based Flyksoft launches a brand new website before their software and app and marketplace is ready to launch in 2 weeks.
DUBAI, SHARJAH, UNITED ARAB EMIRATES, August 25, 2023/EINPresswire.com/ — Flyksoft Solutions L.L.C, a leading Dubai-based software development company, is excited to announce the launch of its brand-new website, marking the final stages of preparation before the highly anticipated release of its innovative business management software and app marketplace. With just two weeks remaining until the official launch date, Flyksoft Solutions L.L.C is poised to reshape the landscape of business operations by introducing cutting-edge solutions that streamline appointment management and enhance overall efficiency.
Flyksoft is driven by a commitment to innovation and technological excellence, and this commitment shines through in its upcoming software suite and app marketplace. Designed with businesses of all sizes and industries in mind, Flyksoft platform aims to simplify appointment scheduling, optimize resource allocation, and elevate customer engagement to new heights.
Mohammad Ibrahim, Founder of Flyksoft, said, "Today, we are thrilled to unveil our new website, marking a pivotal moment as we prepare to introduce our revolutionary business management software and app marketplace to the global market. Our team's dedication and passion for innovation have culminated in a solution that empowers businesses to enhance their operational efficiency while providing exceptional customer experiences."
Flyksoft salon business management software and app marketplace offer an array of comprehensive features designed to transform the way businesses operate. From seamless appointment bookings to efficient resource management, and effective customer communication to data-driven insights, the platform represents a holistic approach to business management that caters to the evolving needs of modern enterprises.
The launch of the new website is a testament to Flyksoft commitment to delivering transformative solutions to its clients. The website not only serves as a sneak peek into the upcoming software and app marketplace but also reflects the company's values of efficiency, innovation, and customer-centricity.
As the launch date draws nearer, Flyksoft anticipates that its software and app marketplace will have a significant impact on businesses across various sectors. By redefining the way appointments are managed and operational processes are streamlined, Flyksoft aims to empower businesses to operate at their highest potential and meet the evolving demands of their customers.
About Flyksoft
Flyksoft is a Dubai-based software development company committed to creating cutting-edge POS for salon businesses. With a team of dedicated technologists and a focus on driving operational efficiency, Flyksoft aims to equip businesses with tools that enhance their operations, engage customers, and drive growth.
At Flyksoft, our expertise goes beyond conventional software solutions – we are masters in the art of tailoring hyper-niche salon billing software, Spa scheduling software, fitness center software, and med spa software. In a world where one-size-fits-all solutions often fall short, we rise to the challenge by crafting specialized software that not only addresses immediate needs but also drives lasting outcomes.
For more information about Flyksoft and the imminent launch of its transformative software and app marketplace, please contact us:
Phone: +971 552237236,
Mail: [email protected]
Website: https://www.flyksoft.com/
Mohammad Ibrahim
Flyksoft Solutions L.L.C
+971 55 223 7236
[email protected]
Visit us on social media:
Facebook
Twitter
LinkedIn
Instagram
YouTube
Other
Related Posts