Hostinger's new website builder – named Hostinger Website Builder – is not only the company's latest offering to the site-building industry but also the most beginner-friendly one. 
To put it simply, its primary purpose is to allow users of all backgrounds to create professional-looking and fully-functional sites without much time or trouble. So, no special skills are required such as coding or the use of a web design service. 
As with other popular site builders, you can expect to see an easy-to-use drag-and-drop editor backed by artificial intelligence (AI) tools to simplify the site creation process even further. Plus, there are tons of templates that can be customized and tweaked to fit your site's purpose and style. 
At the core of this solution, there is an intuitive and insightful user interface (UI) that'll make the site-building experience – everything from picking out a template to managing a site post-launch – as seamless as possible.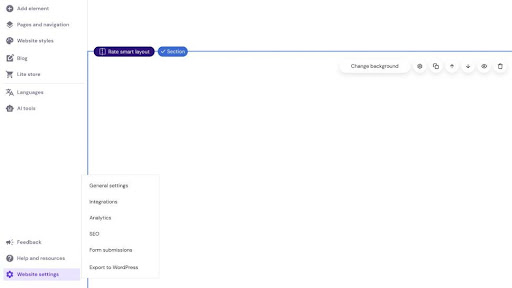 Hostinger Website Builder features
Hostinger Website Builder is a terrific tool for creating personal blogs, professional sites, and online stores without special technical skills. The core of the process is choosing a template and customizing it until you like it. Thanks to Hostinger's easy-to-use editor this will be an easygoing experience. However, there's one catch with this – once you choose a template, you can't switch it without starting all over, and doing this more than once can become awfully annoying awfully quick.   
The site builder profits from a clear interface, intuitive layout, and drag-and-drop functionality. The UI is minimalistic, the core options on the left menu are almost self-explanatory, and adding new elements is easy. There are almost no restraints on how can one move content elements around.
Also, its automatically responsive web design can adjust to any screen and look beautiful to boot – computers, tablets, and smartphones alike.
As for ready-made templates, there is a decent amount of them and they are designed to fit different types of sites – online stores, art portfolios, all sorts of blogs, and so on. And if none of them is what you wanted for your site, you can adjust colors, change fonts, and move elements around. Plus, Hostinger provides a royalty-free image library you can browse and borrow any image that catches your eye. 
Like with other Hostinger products, its site builder works as an all-in-one sort of solution for creating sites. So, in addition to the site builder and all its tools, the package also includes a domain name registration and a web hosting service with unmetered traffic, and a free SSL certificate. Plus, you can create up to 100 sites and up to 100 domain-based email accounts, if you wish to do so. 
If you're interested in e-commerce features, you'll be glad to hear that Hostinger site builder covers all essentials for such a site. If you used Hostinger's previous site builder Zyro when it first came out, you might remember the complete absence of any e-commerce features. However, that is not the case with their latest products.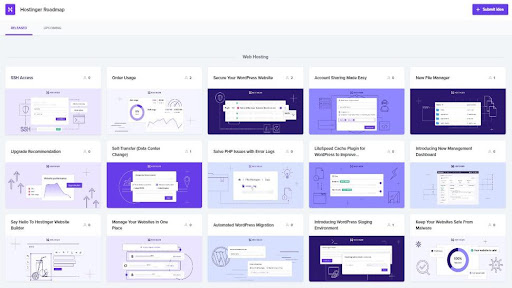 Since we've pretty much covered standard site-building tools (as well as e-commerce tools) in the previous chapter, we'll now check out the awesome AI-powered tools this builder has to offer. 
If you're eager to create more content for your site, but don't have enough time for that, you can employ Hostinger's AI Writer to do the writing for you. To get things started, choose one of the top-level topics (such as "small business") and then select a topic-specific category (let's say gaming). Then, choose what part of your site the AI will be creating this piece of writing for (something like the "About" page), and hit the "Generate" button. 
While the AI's scope currently seems somewhat limited, the paragraph you'll get will be surpassingly readable – and it will save you the time you could spend on something more critical. Plus, AI Writer is now multilingual, which is excellent news for all non-English speakers out there. 
Another interesting AI-powered tool is AI Heatmap and it should help you find out what images will your visitors focus on, even before your site is finished. Moreover, it tries to predict in which way the visitors will navigate around your site and what will attract their attention the most. Then, you can organize the elements of your site in a way it attracts the most visitors and maximizes conversion.
Other noteworthy tools from Hostinger's bag of tricks include Logo Maker (as suggested, it creates catchy logos), Site Analytics (it will get you an insight into who visits your site), PageSpeed Insights (a way to test your site's speed performance), Business Name Generator (it's self-explanatory), and Slogan Generator (also, self-explanatory).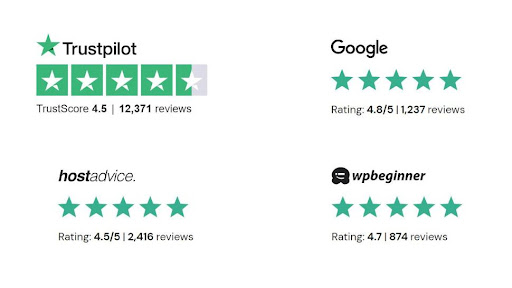 User reviews
Since its launch in October 2022, Hostinger's new site builder has attracted a modest user base, and some of these users have shared their observations and opinions about the product on popular review sites. Some of the sites we've closely checked include Trustpilot, HostAdvice, Reviews.io, and TrustRadius. 
Since most user reviews are focused on web hosting services, we had to get our hands dirty digging through these reviews to find what users think about the new site builder.   
So, while Hostinger can boast a 4.5/5 rating on Trustpilot, 4.5/5 on HostAdvice, 4.7/5 on WPBeginner, and 4.8/5 on Google, these don't reflect user reviews of its site builder. So, we've checked the latest user reviews that bring up Hostinger Website Builder in a good or bad light. 
On Trustpilot, users have criticized the process of transferring their sites to the new site builder as it was slow, required users to rebuild their sites, and had to wait for a day before the sites appeared on the internet. However, most users found the site builder simple to use, swift, and of big help. 
User reviews on HostAdvice paint a similar picture by calling Hostinger Website Builder useful but somewhat slow and lacking in more complex editing options. On Reviews.io no one pointed out the site builder, but the rating of Hostinger's overall service was a rock-solid 4.5/5 (88%). 
TrustRadius rated Hostinger with 9.2 out of 10, which is high praise, but Hostinger Website Builder was never mentioned in user reviews. However, there were some complaints about Hostinger's old site builder, Zyro.
So, all in all, user reviews suggest that most users are well pleased with Hostinger's new product although it could be polished up a bit. To sum it up, most complaints were about its speed and lack of more complex image editing options – and that's it.  
Now, let's check if Hostinger Website Builder is as easy to use as it claims to be.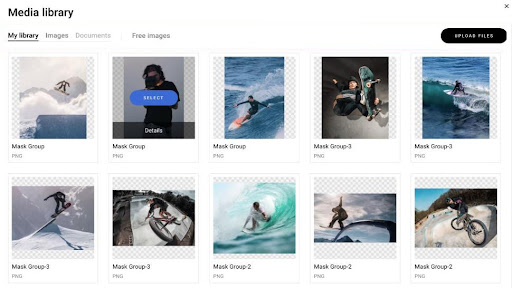 Is Hostinger Website Builder easy to use?  
The short answer is yes, it is. However, Hostinger Website Builder is not only easy to use but it's one of the most beginner-friendly site-building tools out there. After all, it was created to address the needs of less tech-savvy Hostinger users. 
Building a site with WordPress calls for some technical know-how (or tons of tutorials).
Even if you're an experienced professional user, a beginner-friendly site builder can help your less-experienced teammates get used to the new tool and speed up the workflow. 
The site builder's drag-and-drop, grid-based editor will make adding text, images, videos, maps, contact forms, and other elements to your site effortless. There's also an icon that lets you clone the whole section, which can significantly speed up things. And if your site doesn't turn out exactly as expected, there's an easy-to-spot "Undo" icon that'll return your site to its prior state.
And if by a stroke of bad luck, a thunderstorm causes a power outage or you turn off your computer by accident, thanks to Hostinger's autosaving functionality you won't lose your cherished content – and this autosaving is activated every couple of seconds.
As mentioned above, Hostinger offers a royalty-free image library, so you can stop worrying about where you'll find fitting images for your site. While only one image can be uploaded at a time, all of them will be saved in your image library from where you can choose the ones to use, edit, or delete.   
To tell the truth, we weren't exactly impressed with the site builder's edition options. While the site builder offers more image edition options than the old one, it still isn't much. You can add/remove backgrounds, resize, crop, and upscale an image, and that's about it. 
So, our only complaint about Hostinger Website Builder is that its image editor is a bit too basic. Even so, this tool is probably as user-friendly as one can get.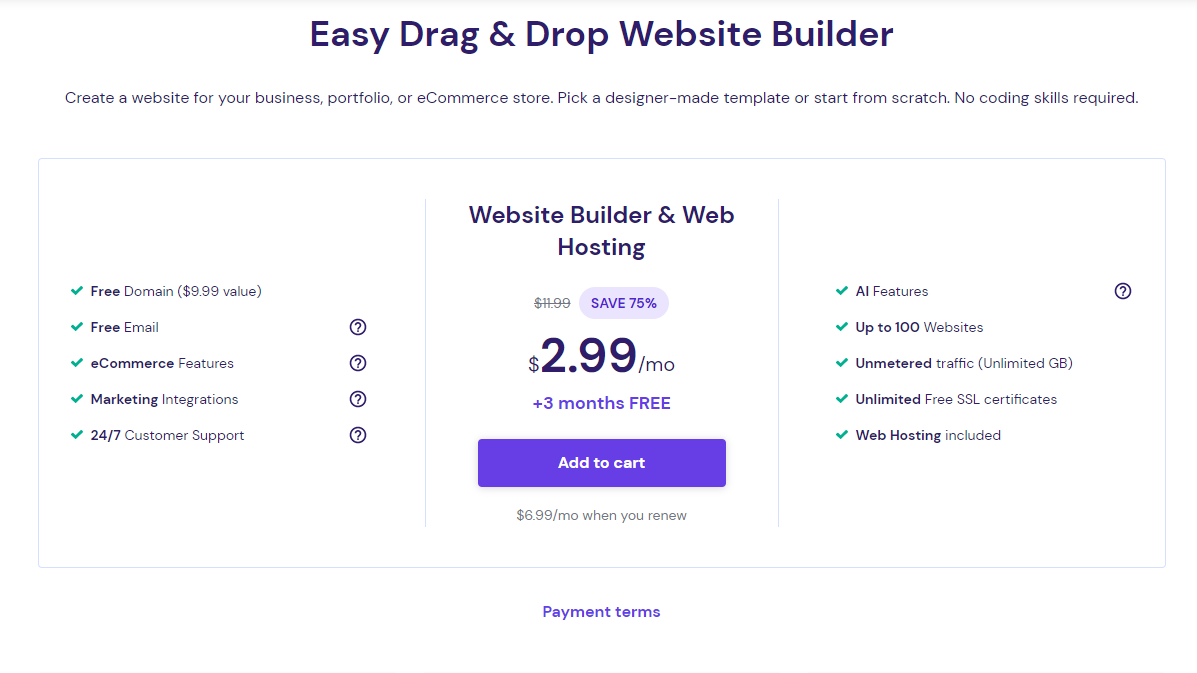 Hostinger Website Builder pricing: is it a good value for money? 
Hostinger Website Builder comes as a part of an all-in-one solution titled "Website Builder & Web Hosting" which also comprises a domain name registration and a web hosting service. So, you'll get a three-in-one type of product with a fairly pocket-friendly price tag of $2.99 per month. However, if you want to subscribe for one month only, the price will spike up to $10.99, plus a one-off setup fee of $4.99 – so, $15.98 in total. 
On the other hand, if you commit for one, two, or three years, you'll get 75% off the original price and a free domain name for a year. After the promotional period runs out, the price will spike up to $6.99 per month, which is still a pretty reasonable price.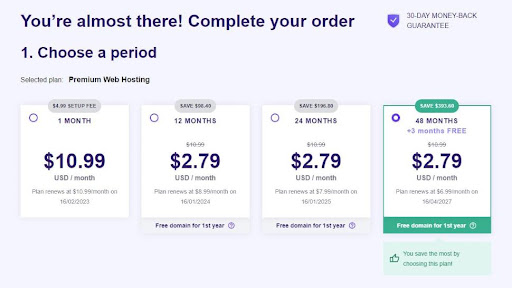 Also, given that Hostinger Website Builder comes with all available Hostinger web hosting packages, you can purchase any of them and get the site builder at no additional cost. The cheapest option out of these is the "Single Web Hosting" plan and if you subscribe for three years, you'll pay as little as $1.99 per month. 
All Hostinger's web hosting and website builder plans are backed by a 30-day money-back guarantee, which means you can try out everything before making a long-term commitment. However, there are no free trials nor free tiers for the new site builder at the moment. 
As for payment methods, Hostinger accepts all major credit/debit cards, PayPal, Google Pay, AliPay, and Coingate. 
So, does Hostinger Website Builder provide good value for money? Yes, particularly if you subscribe for a longer period and get a decent discount – and Hostinger almost always offers its products at a discount.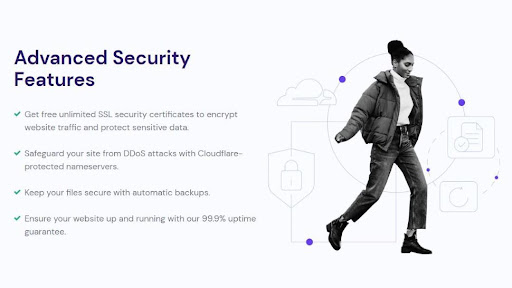 Hostinger Website Builder safety and security 
With cybercrime on the rise, site owners need to stay very vigilant to keep their sites on the safe side of the internet. A smart place to start is to make sure your service provider is equipped with all the security tools you'll need to shield your site and its visitors from all sorts of threats. Fortunately for all Hostinger customers, the company takes the security of its products and services very seriously. 
For starters, Hostinger provides a free Let's Encrypt SSL certificate with all its plans, which adds another layer of security to all data being shared through your site. 
With Hostinger you can set up Cloudflare which will conceal all server IP addresses and shield your site against distributed denial-of-service (DDoS) attacks.
All Hostinger's plans come with weekly backups, which means you can turn back time in case you mess up your site or something goes wrong. If automatic weekly backups aren't enough for you, you can always go with a business-focused plan and get daily backups instead. 
Also, Hostinger supports two-factor authentication (2FA), so you can be sure all your logins are done by you. So, even if someone steals your login credentials, they won't be able to access your Hostinger account. 
Instead of a conclusion, we'll also add that Hostinger guarantees 99.9% uptime with all its web hosting services, and this is the available uptime per month. If your site suffers more downtime than this, you can contact the customer support staff and request a credit of 5% off your monthly hosting fee for that month.
All in all, Hostinger Website Builder seems like a solid choice in terms of security.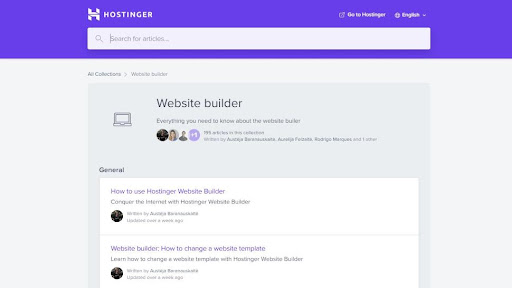 Help and support  
With all Hostinger's plans (website builder & web hosting included), customers can rely on round-the-clock live chat, e-mail, and ticket support. However, a telephone line is not available at this time. 
Live chat support is probably your best bet out of the direct support channels and you shouldn't wait for more than a couple of minutes before getting a reply from a support agent.  
All do-it-yourself types of users will be thankful for Hostinger's well-supplied Help Center. There, you'll find both the basic, beginner-oriented web hosting and site-building stuff and tips on mastering marketing and boosting your business strategy. Most how-tos are written in a simple-to-understand way and feature fitting screenshots to boot – so, getting lost is not an option. 
However, we suggest browsing through the categories rather than utilizing the search box since it's astonishingly awful at finding the right articles – strange, it's usually the other way around.   
All things considered, Hostinger hits the marks in all areas when it comes to customer support and it offers more options than most budget-friendly providers.  
Hostinger Website Builder alternatives 
Wix is not only one of the most popular site builders on the market today, but also one of the best ones. Unlike Hostinger Website Builder, Wix offers a wide variety of site builder plans, from personal to business-focused ones. In contrast, with Hostinger's beginner-friendly site builder you'll get a one-and-only plan. It's a bit more generous in terms of features, though.  
For example, with Hostinger you'll get the core e-commerce features right from the get-go. Meanwhile, you'll have to purchase some of the more pricey plans with Wix to get the same functionality – we're talking about $17 per month and up. On the other hand, Wix is a more powerful tool aimed at professional users.
If you're a developer who wants something like Wix but with more power, Editor X might be the perfect choice for you. Designed for experienced webmasters and developers, Editor X provides superb series of developer features, excellent e-commerce tools, and API support. While its UI looks simple to use, this site builder is far from being beginner-friendly – unlike Hostinger Website Builder.
Squarespace offers more ready-made templates than Hostinger Website Builder and they are more customizable too – all thanks to Squarespace's excellent image editor. However, Squarespace is more expensive and less beginner-friendly than Hostinger's new builder. 
Is Hostinger Website Builder right for you?  
Hostinger Website Builder is an AI-powered, all-in-one sort of solution aimed at newcomers and less experienced users that plan to create a personal blog, a pretty-looking portfolio, or a small online store. 
The templates are beautiful yet simple, the editor is easy to use (but a bit too basic), and the price tag is pretty pocket-friendly. Plus, a free SSL certificate, royalty-free image library, ecommerce features, AI tools, and 24/7 live chat support will only sweeten the deal. It's one of the best beginner-friendly options out there.  
So, if you liked Zyro, you'll probably like Hostinger Website Builder even more. However, if you felt Zyro was a bit too basic for you, perhaps you should consider some other choices first. While Hostinger Website Builder is certainly a step up from the old site builder, the change is not as substantial as one might hope. 
---
Hostinger Website Builder FAQ  
Does Hostinger have a free website builder?
While Hostinger provides a free Hostinger Website Builder with all its web hosting plans (even the cheapest one), there isn't a free edition of this product – nor a free trial for that matter. Besides this, there is a one-and-only site builder plan and it is backed by a 30-day money-back guarantee. 
Which is best: Hostinger vs Zyro?
Hostinger Website Builder is an upgraded, feature-rich, AI-powered, rookie-oriented version of Zyro, so we think it's an improved edition of the site builder. However, if you were a fan of Zyro, you'll probably like it as much under the new name.  
What payment type does Hostinger Website Builder support?
The online payments platform you can utilize in your online store with Hostinger Website Builder is Stripe and it supports several payment methods. These include all major credit/debit cards (including Visa, Mastercard, and American Express), Apple Pay, Google Pay, Alipay, Afterpay/Clearpay, Bancontact, BLIK, and the list goes on. 
We should note that the only payment method available by default is bank cards, while the other methods will have to be enabled. They're all integrated though.  
Check out the latest Hostinger coupon codes.