how good is this website builder?
Weebly is a good website builder to use in 2023. This What You See Is What You Get (WYSIWYG) page builder powers almost a million websites, according to the usage statistics by BuiltWith. Weebly is easy to use, affordable, and has a lot of features to offer, including eCommerce and SEO. Nonetheless, there are some factors that can make it a bad choice for your business.
As a result, we conducted a Weebly test and review for 2023 to help you understand the site builder's strengths and weaknesses. This article will save you both time and money and eventually help you make the right decision for your business regarding Weebly.
Ease Of Use (Designing With Weebly)
Weebly is one of the easiest website creators to use, according to our discovery in this 2023 review. The tool uses a drag-and-drop design method which makes it easy for users to create their websites visually. Meaning you don't need any coding or web design knowledge prior to using the tool.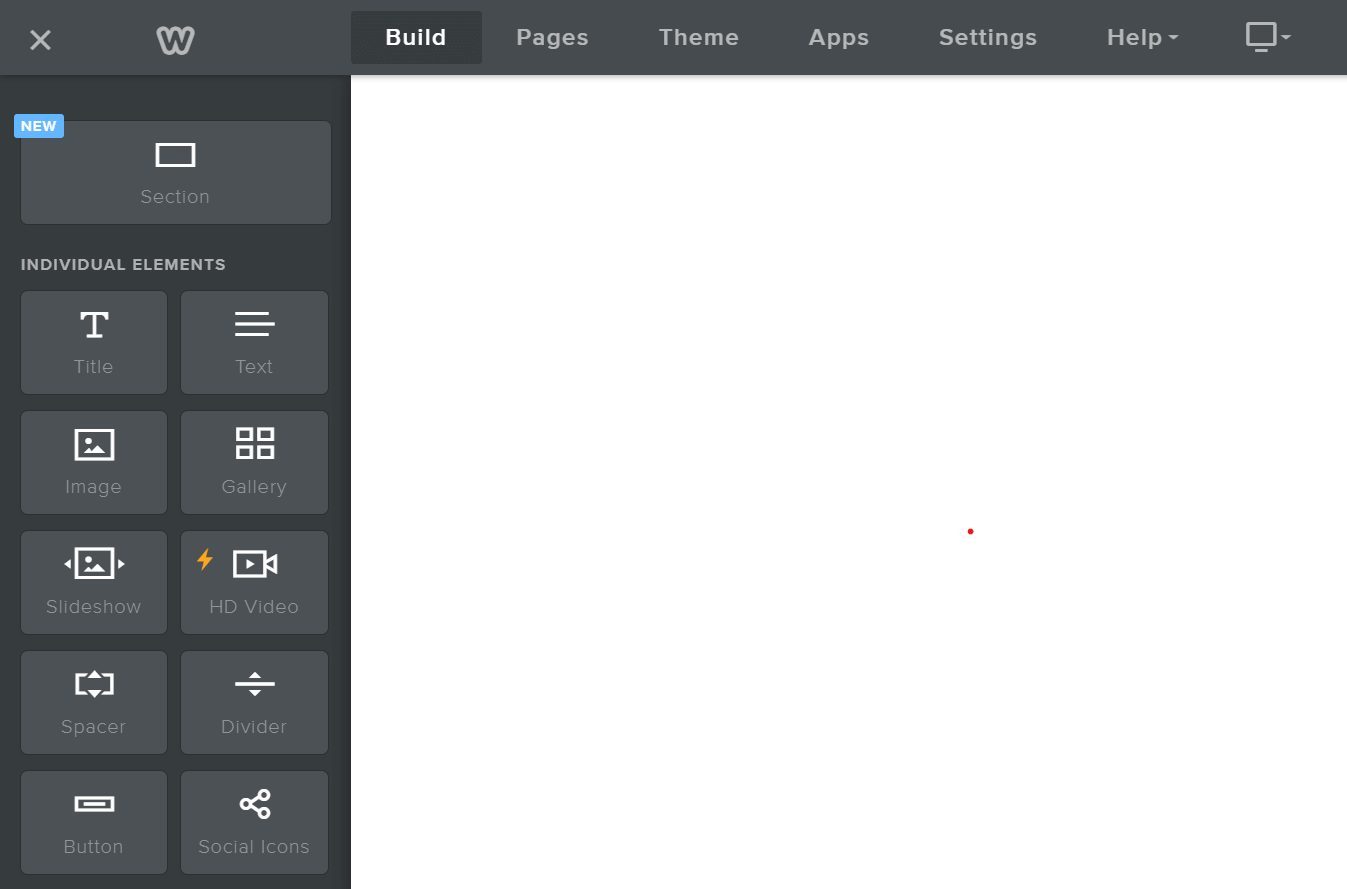 Moreover, the editor is quite intuitive. All the elements you need to design your web pages are present in the sidebar, which is usually fixed on the editor page. This way you don't need to click through layers of links or pages to get what you need. Besides, clicking on any element on the editor page opens up its customization options.
On top of that, you can add any installed third-party app to your web pages just like the elements. You can also configure them (the apps) directly on the web page you are designing.
One of the issues with the website builder is that there is no artificial design intelligence. So you have to rely on the themes for your design. Furthermore, optimizing your web pages for mobile devices is impossible since the themes won't let you. Thus, you would have a hard time ensuring that the web pages and the designs display correctly on smaller screens. Most of the time, it is a futile mission.
As a result, our conclusion after the review of Weebly's ease of use is to consider a service like Hostinger Website Builder if you want more customization flexibility and assistance.
Weebly has a Fair Customer Support
A crucial aspect we looked into during our Weebly review for 2023 was customer support. Everyone, either experts or beginners, needs support for a product in case they encounter an issue. This is why the availability and competence of a company's customer support are important.
Weebly makes provisions to help you in situations you can't seem to come out of yourself. It has a Knowledge Base with tons of articles on popular questions/issues and their solutions. So if you ever have an issue, you can learn how to solve it quickly without waiting for a support agent.
Moreover, our review shows that Weebly has a community forum where all customers can share what issues they are having with their site and get answers or solutions that worked for some people. You may also share ideas with fellow community members and get tips that could help your website or business thrive.
Additionally, you can contact Weebly support agents through emails, chat, and phone calls. Although, you have to be on at least the Professional package to qualify for phone support. That said, the priority support requires you to have the most expensive plan, Performance. It is shameful that the builder discriminates among customers for support importance based on their package.
Weebly support operates between 9 AM to 9 PM EDT, from Monday to Sunday. This translates to only 12 hours of support in 24 hours. So it contradicts the 24/7 support claim by the website builder, especially for the email channel, since they will only respond during the 12-hour window. Furthermore, replies are relatively slow. However, the bot assistant can be helpful with troubleshooting and solving a few common issues. If you are eligible for phone support, you can call them at 1-844-493-3259 within their business hours.
After our review of the Weebly customer support, we concluded that it is not great if you are a complete beginner that will need a little hand-holding. So, they get a 6/10 for support.
Pricing: Which Weebly plan is the best?
Another very important area we took note of in our Weebly review was pricing. A good website builder should not be too expensive as it may scare away beginners who are in dire need of a simple and affordable tool to create a site.
Therefore, it should be priced according to the features included in each package. At the same time, several plans should be available to enable clients with different business needs to choose the right one for them.
Weebly is a very affordable website builder and has room for clients irrespective of their budget. It has a free plan that allows you to build many websites for free and access more than half of its features. Aside from that, it has three premium packages. The packages are Personal, Professional, and Performance.
Breakdown of Weebly Packages
The first Weebly plan we are reviewing is Personal. It costs only $10 monthly. It allows you to connect a custom domain name to your website and embed custom codes on your pages for more features. The plan comes with a free SSL certificate as well.
In addition, it has eCommerce features like shopping carts, unlimited products, coupons, inventory management, in-store pickup, shipping and automatic tax calculators, digital goods, shipping labels, etc. Besides, you will have access to a great SEO tool, Instagram feed integration, pop-up notifications, and a lead collection tool (form builder). You will get support through the community forum, live chat, and email channels. This package is great for a small business with limited storage needs.
The Professional plan, on the other hand, costs about $12 per month. In addition to all the features in the Personal plan, you will get unlimited storage space, an advanced site analytics engine, and a free domain name. At the same time, Square branding and ads will stop displaying on your website, and you can create password-protected pages. You will also get phone support from highly-qualified agents anytime you have an issue. This plan will give your site a professional look, and it is great for a media-heavy project.
The last package, Performance, costs around $26 monthly. It inherits all the features from the Professional package with the addition of some new ones. The new features included are abandoned cart recovery, product reviews, and PayPal integration. Moreover, you will get an advanced eCommerce insights tool. The Performance package is great for a big eCommerce site.
Overall, the review of the Weebly plans shows that it has great pricing flexibility and affordability. Thus, it is a recommended tool if you are on a tight budget.
Speed and Performance: Is Weebly Fast?
The next aspect we looked into during our Weebly review was speed and performance using our test site. Most website builders are not known for their investment in website speed and performance because their main focus has always been 'ease of use'. Nevertheless, it is important to ensure that your website pages load fast enough to impress your visitors. Otherwise, your site will lose both visitors and SEO performance.
To do the Weebly speed tests, we used GTmetrix and PageSpeed Insights.
Performance Metrics
Here are some of the important metrics used by both tools to determine the speed and optimization of a web page:
Time to First Byte (TTFB): This metric refers to the time it takes your website server to return the first response to a visitor's browser query. It indicates how fast your server's backend connection is. An ideal time is about 0.8 s or less.
First Contentful Paint (FCP): The FCP refers to the time it takes the server to display the first item on your web page. It could be an HTML element, text, image, etc. It shows the processing speed of the server. Ideally, FCP must not pass 1.8 s for a fast site.
Largest Contentful Paint (LCP): This is how long it takes the heaviest visible item on your web page to fully display. Most of the time, it is usually a big hero image, heading, button, etc. The LCP must be 2.5 s or less for the page to be considered fast.
Cumulative Layout Shift (CLS): The CLS refers to the stability of your web pages when visited. Unstable pages lead to a bad user experience and affect SEO adversely. A good CLS is 0.1 or less.
GTmetrix Grade: The GTmetrix Grade shows the overall performance of the web page regarding structure and speed. The higher the score, the more optimized the page is.
GTmetrix Test
GTmetrix is one of the most trusted tools for testing the speed performance of a website for SEO readiness. It uses Google Lighthouse to capture how your web page will load when real visitors visit.
In the course of this, it will examine and inspect the page to know what problems might be affecting its performance. Subsequently, it gives suggestions on how to fix the issues to give your visitors the best site loading speed.
We used our free Weebly site for the GTmetrix test. After the analysis of the page by GTmetrix, we recorded a TTFB of 136 ms. Although this is great, it is a lot slower than we recorded for website builders like Squarespace. So the server lags a bit.
The FCP we recorded was at 311 ms, which is extremely fast. The LCP also occurred at 600 ms. It shows that the Weebly pages are lightweight, and the elements are greatly optimized.
The CLS was 0.02. Even though this is a bit unstable, it is still acceptable. However, since this is just a simple page, the fact that the instability could be worse if there were more elements present is alarming.
Overall, GTmetrix gave the web page a perfect Performance score (100%) and a 94% Structure score with a Grade of A. Nonetheless, the test results show that the Weebly website editor needs to improve the structures of the web pages it builds to promote stability.
PageSpeed Insights Test
The next tool we used for the Weebly speed test was PageSpeed Insights. This Google-owned project is another trustworthy tool used to test the speed of web pages. It gives the most accurate report of how Google thinks visitors will see your website and how the web pages will perform. Like GTmetrix, PageSpeed Insights gives suggestions on how to eliminate any issue it finds out is affecting the performance of your web pages.
Contrary to the results we recorded from GTmetrix, our Weebly site failed the PageSpeed Insights test. For the desktop version, the tested web page had an FCP of 0.8s and a CLS of 0.003. Sadly, the LCP jumped to 1.7 s from 600 ms (GTmetrix). Although both of these results are relevant and reasonable, it shows that the web page did not impress Google. The overall performance score was 89 out of 100. Hence, it needs great improvement since PageSpeed Insights results preside over GTmetrix's regarding SEO success.
The performance of the web page on mobile devices was worse. We recorded an FCP at 3.5 s and an LCP at 8.3 s. The performance score was 53 out of 100. Despite the fact that web pages tend to be slower on mobile devices, this was very poor. It shows that your site will not perform well for mobile users in terms of speed and will lead to a bad user experience. Since the majority of users visit sites with their mobile devices, this is a losing game regarding speed and SEO. So, our test shows that Weebly is not recommended for a fast-loading website goal.
Weebly Uptime Review
Aside from speed, great uptime is another necessary attribute one must review when choosing a website builder. As an online business, it is important that your website is always up and running so that it can serve customers around the clock. Otherwise, if customers try accessing your site to no avail, they may end up going to your competition.
When this happens, you may never get them back again and this leads to revenue loss. This is why it is great to have a website builder that will ensure that your site is always online.
Weebly has an outstanding uptime. We reviewed the uptime of all published Weebly sites for the past 6 months, and we recorded a 100% score. This shows that there was never a second a Weebly website was offline. The same goes for Weebly editors and the Commerce Application.
App Center for Advanced Features
Even though the in-built features of Weebly are limited, the website builder gives you the opportunity to add more advanced features to your site through the App Center. So if there is a feature the Weebly editor is lacking, you can check the App Center for a tool that will help you out. Some of them are free to install and use, but you have to pay a monthly subscription fee for others.
The App Center is a great initiative by the website builder because of the choices it gives you. Though the apps are not as powerful as those offered by the likes of Wix, they will suffice for most features you need.
Is Weebly Good for SEO?
SEO is another important feature we checked out during our Weebly review for 2023. SEO is crucial for every website interested in organic traffic. It refers to the settings you do to ensure that your pages are understood well by search engines. Consequently, they will start to rank well on Google's and other search engines' results pages for the keywords you optimized them for.
One of the most important SEO settings for any web page is the meta description. It helps to describe the content of a page to both search engines and searchers. It literally tells the duo what they will find on the web page. Meta descriptions increase the click-through rates for any page when used correctly and this boosts your website's SEO ranking. Weebly allows you to add meta descriptions to any web page on your website. Therefore, you will be able to control how your web pages are seen on search engine result pages (SERPs).
Furthermore, you can set SEO-friendly URLs for your web pages. This allows you to sneak your keywords into the URLs. Hence, it tells search engines more about the content of the page. At the same time, it is easier to remember by visitors.
Another SEO feature we discovered in our Weebly review was the sitemap file. Sitemap files are directories of links to your website that are easily readable by search engine bots. They are always automatically updated so that search engines can easily crawl new pages immediately after you publish them. The existence of a sitemap file allows you to submit your URLs to search engine tools like Google Search Console (GSC) and Bing Webmaster Tools. Thus, it ensures that your web pages are crawled and indexed as fast as possible. This fast-tracks your SEO ranking as well.
In addition, it supports 301 redirections. When you delete an old page that is already indexed by search engines or a link that has been shared on many platforms, you need to redirect it to another page. This could be a new relevant page or a 404 error page. When you redirect to a new page using 301 redirects, you will pass link juice or page authority from the old link to the new one. Therefore, the ranking of the old page becomes the new page's. As a result, you won't need to rank the new one from scratch. Weebly allows you to use 301 redirects for an unlimited number of pages.
The conclusion of our Weebly review regarding SEO is that it is quite good. However, it is not so powerful due to the absence of advanced SEO features. Besides, don't forget that the builder is not mobile-friendly. Wix has a more powerful SEO tool that will help your site rank better.
Blogging
If you are just looking for a website builder to create a blog, Weebly is a good choice based on our review.
Writing and publishing blog posts with Weebly is very easy. It has a pre-designed template that makes your blog posts look professional. You can even add a sidebar to your blog posts. Moreover, you can enable commenting and discussion on your blog posts to improve engagement and, consequently, your SEO performance.
Although, you have to be careful about it because comments can adversely affect your SEO when they add no value to the original content. Fortunately, the blogging tool allows you to moderate comments.
Additionally, you have absolute control over the customization of your blog posts. You can add any element and application, including custom third-party codes to your blog posts. Having tested many website builders, Weebly has one of the most complete blogging tools.
An Excellent Website Builder for e-commerce
One of the strengths of Weebly that we found during our review for 2023 was its eCommerce features. A good website builder for online stores must have all the necessary features to run a complete eCommerce site. They could be in-built or with the support of third-party integrations.
Here are some of the eCommerce features Weebly has:
Multiple Payment Integrations: Weebly supports the acceptance of payments through Square, PayPal, and Stripe. Since these gateways accept multiple payment methods, clients can pay you in several ways from anywhere in the world.
Inventory Management Tool: It lets you specify the number of stocks available for each product. Hence, you can monitor the movement of the products in and out of your store in order to restock when necessary.
Order Fulfillment: Weebly allows you to provide pickup and shipping services on your online store. You can also link your UPS, FedEx, DHL Express, and USPS accounts to your site to provide real-time shipping rates and get huge discounts.
Abandoned Cart Recovery: Sometimes, when users browse an eCommerce website and add products to their carts, they leave without completing the checkout. Subsequently, they may forget they had some items in their carts after a while. Abandoned cart recovery allows you to remind such users of the amazing products they left in their cart through marketing automation. Thus, it helps to increase your sales.
Customer Reviews: Many buyers won't trust a product that has not been tested and reviewed by others. This is so that they can avoid a waste of time, energy, and money. The availability of the customer/product review feature lets users rate the products they have purchased and used. If the reviews are positive, more buyers will purchase the products on your Weebly store, and your profits will increase.
Coupons and Gift Cards: These are great ways to earn the loyalty of your clients. It is a buyer's attitude to always wish to buy a product at a lower price than others. So when you give discounts to your most-valued customers and fans, they will love your brand more and buy more often. Selling and accepting gift cards may help you gain more sales and customers, especially those that shop with Square gift cards.
Marketing Automation: This is a very important aspect of every eCommerce website. It covers all the necessary automated emails and alerts associated with orders and fulfillment. Although, it extends beyond that. For example, you can set automated emails for birthdays, holidays, after sign-up, after the first order, follow-ups, etc., for your Weebly online store. This is a great step to improve your inbound marketing.
eCommerce Analytics: Weebly has a powerful and comprehensive eCommerce analytics engine. It tracks your general website traffic and intersects it with the sales, sources, abandoned carts, coupons, products, etc. You can now view the data in an extremely comprehensive and graphical report format to better understand and improve your marketing strategies.
Weebly is Not Mobile Responsive
Another aspect that we checked during our Weebly review was its mobile responsiveness support. It is important for websites and web pages to be mobile responsive because the majority of visitors use mobile devices.
However, since most themes or website templates were built to look great, mainly on desktop screens, extra efforts have to be made to give mobile users the same experience. Otherwise, the web pages will look distorted and load slowly on mobile devices. Hence, it results in a bad user experience which could decrease your traffic, slow down sales, and kill your SEO performance.
During our test of Weebly, we discovered that even though the themes looked great on desktop screens, they were terrible on mobile devices. The pages were either distorted or missing several elements present in the original design. Moreover, they loaded very slowly compared with the desktop versions. Therefore, our review shows that the Weebly website builder is not suitable for building a mobile-responsive site, and neglecting this red flag could cripple your SEO.
The Themes Are Old
It is really a great idea that the website builder has many free themes. However, based on our review of the Weebly themes, we discovered that they are very old and outdated.
They are not suitable for creating a new site without putting in some good work. Thus, no matter which theme you choose, you will spend a long time trying to make it look modern and professional. Sometimes, it is almost like starting your design from scratch. This shows a lazy approach by the website builder in creating ready-to-use themes for its clients.
Nonetheless, you can use many third-party themes on Weebly to create a more professional site. Most of the themes are premium, so you may have to purchase a license to use them.
One good news we discovered during our Weebly review is that you can change your theme anytime. So if you don't like a particular theme, you don't have to panic about having to start your site setup all over again when you replace it. This gives it a win over many giant competitors.
Conclusion: Is Weebly Any Good?
Yes! Weebly is a great builder for websites and online stores. It is easy to use and has all the basic features needed for creating a site for blogging, eCommerce, or both purposes, in-built. You can add some advanced features to the editor through the App Center too.
Nonetheless, it does not match the prowess of site builders like Wix, Hostinger and Squarespace. So if you need a tool to create a simple website easily, Weebly is a great option. Otherwise, try better options like Wix or Hostinger Website Builder.
Weebly Review: FAQs
Do you still have questions after reading our Weebly review? If so, we advise you to read the following questions and answers.
Is Weebly Still Free?
Absolutely! Weebly offers a free plan to all its customers. You will have access to more than 50% of Weebly's features. What's more, there is no limit on how long you can use the free plan. Moreover, you can create as many websites as possible with the site builder.
Hence, if the features and limits of the free plan are enough for your business to run smoothly, you can use the website builder without paying a dime for as long as it exists.
From our review of Weebly's free plan, some of the major limits you will encounter are the inability to connect a custom domain and limited storage space. In addition, intrusive Square ads will show on your website.
Is Weebly or Wix Better?
According to our review of both tools, Wix is a much better website builder than Weebly. It is an easier-to-use website creator, especially for beginners. Wix also has many advanced features necessary for your website that aren't available on Weebly. One of them is the multilingual site feature with free autotranslation support. Wix is better when it comes to SEO and mobile-friendliness as well.
Nonetheless, Weebly is a great website builder that can fulfill the basic needs of your business. Wix just opens the door to more opportunities for your business.
Which is Cheaper, Weebly or Wix?
According to our pricing review for both website builders, Weebly is the cheaper option. Both site builders have free plans, but Wix premium packages start at around $16 per month, while Weebly starts at $10 monthly.
In spite of the fact that Wix has some features to justify the price hike on some of its plans, Weebly is a more economical option. You will get most of the features you need there (at Weebly) without breaking the bank.
Does Weebly Take Money From Your Sales?
No! Weebly does not charge transaction fees on all of its plans. So, you will get 100% of your sales money. Although, if you use some payment methods like PayPal, Stripe, and Square, you may be subjected to a transaction fee by the provider.
Is WordPress Better than Weebly?
The answer to this question depends on your business needs because both solutions are great for creating any site. One key difference between these two is the power of their editors. WordPress has an in-built drag-and-drop editor, but it is not very powerful. It cannot help to build your site from scratch efficiently without coding. So you have to rely on the options the theme you use gives you. On the other hand, Weebly is a drag-and-drop editor that is slightly independent of the theme you use. Hence, you can use the full power of the editor to customize any theme in the same way.
Nonetheless, WordPress has a lot of plugins that you can use to build pages faster and easier with more features. In contrast, Weebly has only one editor. Even though it has a few advanced apps to add some features to your editor, most of them are premium. Besides, it does not match the flexibility and opportunities available on WP.
Therefore, in terms of the availability of advanced features and flexible editing, WordPress is better. But regarding ease of editing, especially for beginners seeking to build a simple website, Weebly is the right choice, according to our review. You may, however, try out both tools to determine the right one for your business.
Related Posts