Hostinger's new website builder – named Hostinger Website Builder – is not only the company's latest offering to the site-building industry but also the most beginner-friendly one. 
To put it simply, its primary purpose is to allow users of all backgrounds to create professional-looking and fully-functional sites without much time or trouble. So, no special skills are required such as coding or the use of a web design service. 
As with other popular site builders, you can expect to see an easy-to-use drag-and-drop editor backed by artificial intelligence (AI) tools to simplify the site creation process even further. Plus, there are tons of templates that can be customized and tweaked to fit your site's purpose and style. 
At the core of this solution, there is an intuitive and insightful user interface (UI) that'll make the site-building experience – everything from picking out a template to managing a site post-launch – as seamless as possible.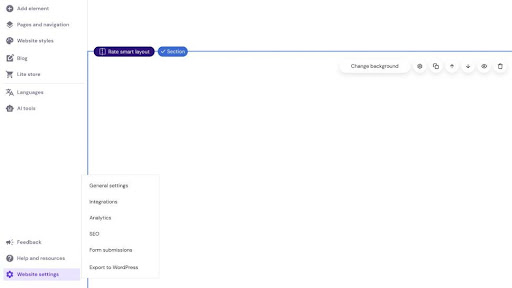 Hostinger Website Builder features
Hostinger Website Builder is a terrific tool for creating personal blogs, professional sites, and online stores without special technical skills. The core of the process is choosing a template and customizing it until you like it. Thanks to Hostinger's easy-to-use editor this will be an easygoing experience. However, there's one catch with this – once you choose a template, you can't switch it without starting all over, and doing this more than once can become awfully annoying awfully quick.   

The site builder profits from a clear interface, intuitive layout, and drag-and-drop functionality. The UI is minimalistic, the core options on the left menu are almost self-explanatory, and adding new elements is easy. There are almost no restraints on how can one move content elements around.

Also, its automatically responsive web design can adjust to any screen and look beautiful

…