Top 10 Best Website Builders For Small Business For 2023
The best website builder for small business will make it easy to create a stunning, professional-looking website for your firm in no time. Whether you're an established business looking to update your digital presence or a startup wanting to get found online, the right website builder can help you succeed.
We compared the leading website builders, including Wix, GoDaddy, Webador, and more, to determine which is the best website builder for small business. Read on to find out what each website builder software product has to offer, so you can make an informed decision and find the right choice for you.
The 10 Best Small Business Website Builders
Building a website can be intimidating, but luckily there are plenty of website builders designed for small businesses. We've compiled a list of the 10 best small business website builders to make launching your new website easier. Among the ten, Wix took the top spot for its user-friendly interface, wide range of features, and affordability. Check out the full list of 10 below:
Wix — Our top pick for the best website builder for small businesses. You can quickly build a website with its intuitive interface and extensive template collection.
GoDaddy — Offers great marketing tools, a user-friendly interface, and extensive customer support. It also has useful features such as SEO optimization, SSL certificates, and social media integration.
Webador — Makes it easy to create multilingual sites with its extensive e-commerce capabilities and mobile responsiveness. Offers a tool for creating responsive websites that look great on any device.
Squarespace — Perfect for creatives and bloggers who want top-notch marketing tools and mobile responsiveness. You can easily customize your website with their advanced design tools and get access to powerful analytics reports in real-time.
Shopify — The go-to choice for e-commerce stores looking to seamlessly integrate with Amazon or manage their store via a mobile app. They have an expansive library of themes, plugins, extensions, payment gateways, and shipping options, enabling you to quickly build the perfect online store.
Square Online — Ideal for small businesses looking to take payments quickly by integrating with Square's payment system. Their drag-and-drop builder makes it easy to create stunning websites without any coding required.
Ucraft — Designer-friendly web-building platform allowing you to craft beautiful landing pages in no time at all. Ucraft is especially helpful if you need multilingual websites or want extra customization options within the platform itself.
IONOS — Offers a good variety of marketing tools combined with a user-friendly interface. Provides plenty of packages suited to different needs, so you can find one that works perfectly for you.
Weebly — This website builder offers extremely intuitive tools that even beginners will love using, and there's a mobile app available which makes managing your site easier than ever before. It's packed with useful features such as SEO optimization and eCommerce capabilities making Weebly a great choice.
BigCommerce — Our final pick is best suited for large-scale eCommerce stores looking for seamless integration with leading platforms such as Shopify and Magento. It provides impressive customization options, as well, giving your store the edge over competitors.
Do Small Businesses Need a Website?
On the whole, yes, small businesses do need a website – and there are several compelling reasons for this. Let's explore some of the key reasons why having a website is essential for small businesses:
Increased Online Presence and Credibility – Having a well-designed website is a powerful digital marketing tool that can increase a small business's online presence and credibility. In a survey of business owners, it was found that 1 in 4 small businesses did not have a website, which could negatively impact their visibility and reputation among potential customers. Consumers often perceive businesses with websites as being more credible than those without one.
Reach a Wider Audience – Having a website allows small businesses to reach a much broader audience. Today, the majority of consumers use the internet to research products and services before making a purchase. Without a website, a business may miss out on customers who are searching for products or services online.
Adaptation to Changing Consumer Behavior – COVID-19 significantly impacted how businesses operate, and having a website has become even more critical for small businesses. Many businesses shifted online to survive and maintain interactions with their client base during the pandemic. Consumers have increasingly turned to online platforms to shop, communicate, and engage with businesses, making a website a vital tool for small businesses to adapt to changing consumer behaviors.
Branding and Professionalism – According to recent statistics, as many as 81% of consumers need to trust a brand before they even consider making a purchase. This emphasizes the significance of having a well-designed website that effectively showcases a brand's identity and communicates a professional image to potential customers. For small businesses, a website serves as a crucial platform not only to display their products and services but also to present testimonials and other relevant information that can enhance their brand's reputation.
Competitive Advantage – In a highly competitive market, having a website can give small businesses a competitive edge over their rivals. A website offers a "home base" for customers to interact with the business and provides a centralized platform to link to social media accounts, positively impacting search engine rankings.
Direct Communication Channel – A website serves as a direct communication channel between a business and its customers. It enables businesses to share important updates, promotions, and valuable content with their audience, fostering customer engagement and loyalty.
Cost-Effectiveness – Creating a website can be expensive. Depending on the budget of the business, there are great platforms, such as Wix and GoDaddy, that offer more cost-effective options for website creation and maintenance.
Do I Need to Hire Someone to Make My Website?
Upwork says the average cost for design and development services from website creators is $15–$30/hr. Depending on your skill set, you may not need to hire someone to make your website.
With tools such as those on this list – including website builders that provide advanced editing capabilities and drag-and-drop functionality – anyone can create a professional-looking website in just a few hours.
If you're comfortable tinkering around with code yourself, platforms like Square, Ucraft, and Weebly offer free plans with templates that can be customized according to your design preferences. At the end of the day, it comes down to understanding what works best for you and evaluating how much time and money you have available to devote to creating a small business website.
Reviews of the Best Website Builders for Small Businesses
Having covered what a website builder can do for your small business, you're likely wondering which is the best. Here's a comprehensive review of our top 10 website builders for small businesses.
1. Wix — The Best Website Builder for Small Service Businesses
Wix is a widely recognized website builder that has gained popularity for its powerful features and ease of use.
If you're looking for the best online website builder for small businesses, Wix offers an array of tools and templates to help you create a professional website without the need for coding knowledge.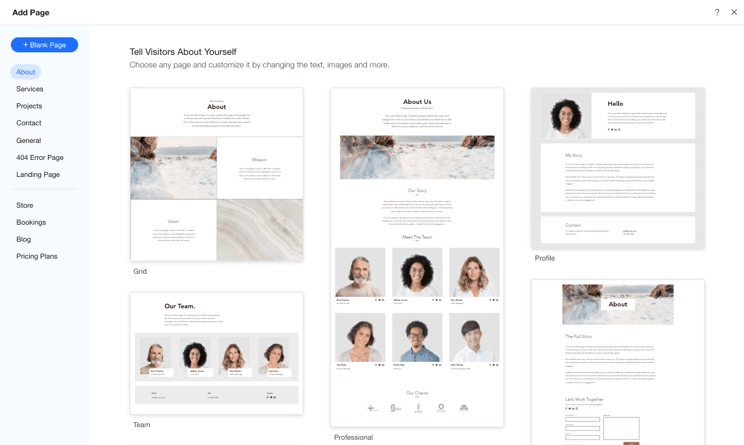 | | | | | |
| --- | --- | --- | --- | --- |
| Starting Price | Domain Renewal Price | Free Custom Domain | Free Version | E-Commerce on Starter Plan |
| $16/mo | $10+/yr | Yes | Choose 7, 14, or 30 days | No |
The software's standout feature is the App Market, which offers a wide variety of third-party applications and integrations. It allows you to enhance the functionality of your website by adding tools, features, and services that aren't included in the core platform. 
These apps cover a range of functions, such as e-commerce, marketing, social media integration, analytics, booking systems, and more. By utilizing the App Market, you can tailor your website to meet specific needs and provide a better user experience for your visitors.
Wix also boasts an intuitive drag-and-drop interface, providing users with an effortless website-building experience. The interface allows users to select elements from an extensive collection of templates and widgets, enabling them to customize their sites to their preferences. Our experts rate the platform as the easiest website builder for small business.
One of the business website creator's strengths lies in its extensive template collection, offering users access to hundreds of beautifully designed templates catering to different industries and website types. This diverse range of templates allows users to create visually appealing websites that align with their specific business needs and enhance overall aesthetics.
Wix does have some limitations that potential users should consider. For instance, the Light plan lacks visitor analytics, which can be valuable for understanding website performance and user behavior, so you may do best to upgrade to a higher-tier plan.
Pricing
The plans cater to different needs, such as removing ads, engaging audiences, and providing advanced ecommerce features. There's also a custom plan for large enterprises.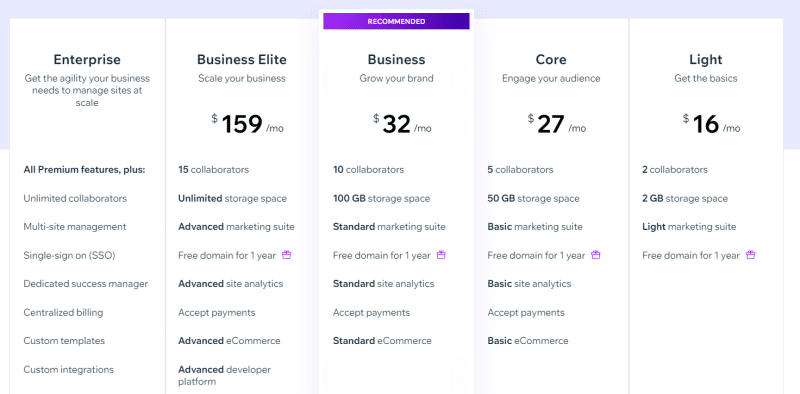 Pros
Intuitive
Built-in SEO tools for higher ranking
200+ app integrations available
Cons
Visitor analytics not available on lower plans
2. GoDaddy — Great Marketing Tools and User-Friendly Interface
GoDaddy's Website Builder is an all-in-one solution that caters to beginners looking for one of the best website builders and hosting for small businesses. Known as one of the cheapest domain hosting services, GoDaddy has expanded into the website-building world, offering a user-friendly platform to create customized websites.
With its easy-to-use interface and a range of marketing tools, GoDaddy Website Builder provides a convenient option for small business owners to build and promote their websites.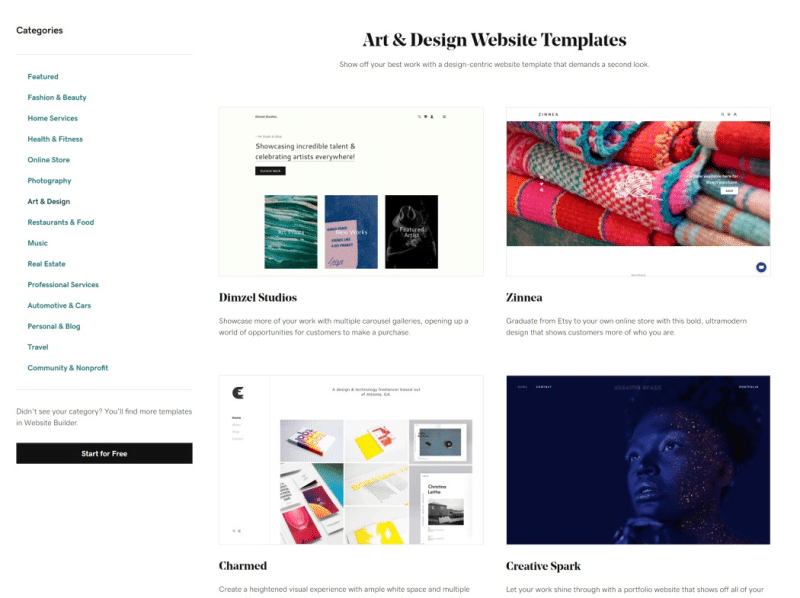 Starting Price
Domain Renewal Price
Free Custom Domain
Free Version
E-Commerce on Starter Plan
$9.99/mo

$

0.99 to $14.99/yr

Yes
30 Days
No
One of the best features of GoDaddy's website builder is its robust set of marketing tools. These enable users to enhance their website's visibility and reach. With functionality for SEO optimization, social media integration, and email marketing, small business owners can effectively promote their websites and attract potential customers.
The website builder is designed with simplicity in mind and is accessible to users of all skill levels. Even without technical expertise, small business owners can effortlessly create and customize their websites using the intuitive drag-and-drop editor.
The platform's Artificial Design Intelligence (ADI) feature further streamlines the website creation process by generating initial site designs based on user-provided information.
While GoDaddy's site builder offers a range of benefits for small businesses, it's worth noting that some users find the website maker's customization options to be restricted compared to other platforms.
Pricing
GoDaddy's Basic plan is excellent for small businesses. It offers web-building features like SSL, custom domain connection, and analytics – however, important functions like ecommerce and appointment setting require Premium or Commerce subscriptions.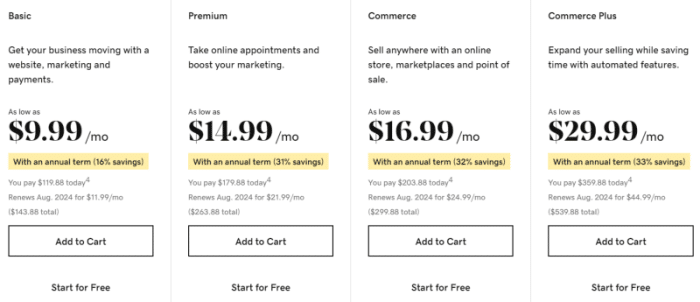 Pros
Highly regarded for its user-friendliness and simplicity
Uses Artificial Design Intelligence (ADI) to quickly generate customized sites
Bundled with various business tools, such as appointment scheduling, email marketing, and social media management
Cons
Lacks higher customization options
3. Webador — Easy Multilingual Sites with E-Commerce Capabilities
Webador is a Dutch site builder catering to beginners and those who prioritize ease of use. It's one of the best free e-commerce website builders for small businesses, so you can get started with minimal fuss.
By offering easy-to-use tools for building websites in different languages, Webador allows businesses to expand their reach and connect with a broader global audience.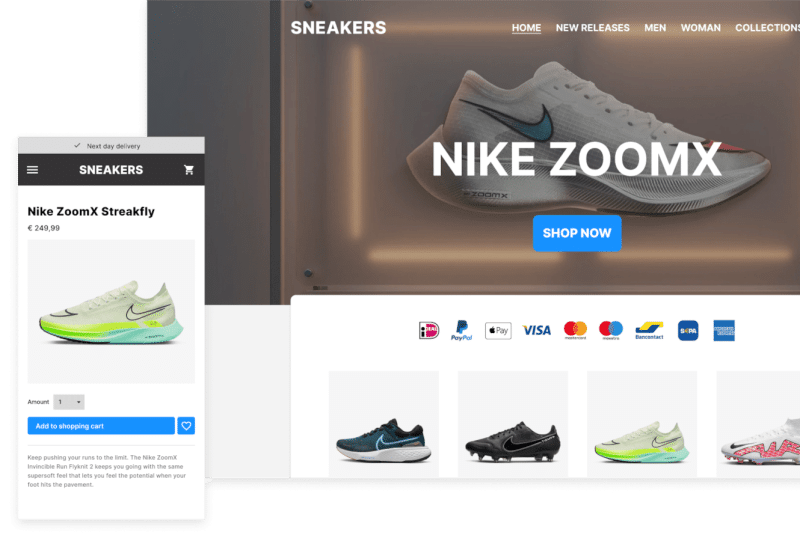 | | | | | |
| --- | --- | --- | --- | --- |
| Starting Price | Domain Renewal Price | Free Custom Domain | Free Version | E-Commerce on Starter Plan |
| $5.50/mo | Renewed with monthly subscription fee | Yes | 3 Months | Yes |
The platform allows you to create multilingual sites in English, German, Spanish, French, and Dutch. It's an excellent choice for businesses targeting international audiences, and reaching your clientele is easy with the various templates Webador has to offer.
Webador provides comprehensive e-commerce features, enabling users to create online stores with product catalogs, secure payment options, and customizable checkout processes. For small businesses looking to venture into e-commerce, Webador offers a comprehensive solution to set up and manage online stores.
The platform prioritizes mobile responsiveness, ensuring websites built on its platform are optimized for mobile devices – something that's important given that having a mobile-friendly website is crucial for reaching customers today.
Webador's designs and templates are optimized to look and function well on various mobile devices, helping small businesses reach their audience effectively on all platforms.
One area where it falls somewhat short is with third-party app integration. Some users may require more advanced features that rely on third-party apps, so this could be a drawback for businesses seeking more extensive customization and additional, integrated features.
Pricing
All of Webador's plans provide the first three months free, giving you the golden opportunity to try it out and see what works best for you. In terms of features, the Free and Lite plans provide all the essentials, including hosting, unlimited pages and storage, templates, stock photos, and team support.
If you want extras, however – or if your store needs a web shop – you'll need to invest in the Business or Pro pricing rungs. Tools like Google Analytics and Statistics will only be available at the top two price points.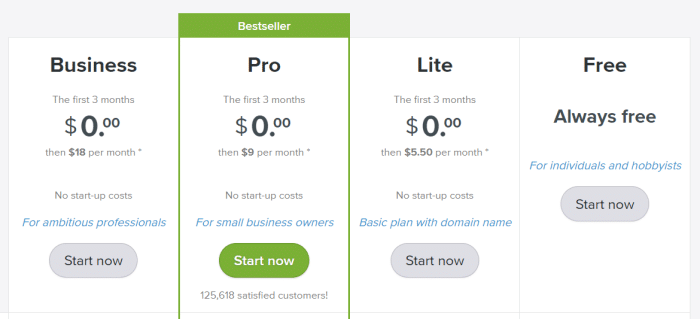 Pros
Create a site in just a few minutes
Claims to power its servers with 100% renewable energy
Build websites in multiple languages
Cheapest website builder for small business
Cons
Limited integrations with external tools
4. Squarespace — Top-Notch Ecommerce Tools for Creatives
Squarespace is an all-in-one website building and hosting platform that caters to a wide range of users, but it particularly excels for creatives and bloggers.
With its range of stylish templates and design options, Squarespace is an ideal choice for creative professionals, artists, bloggers, and photographers looking to elegantly showcase their work.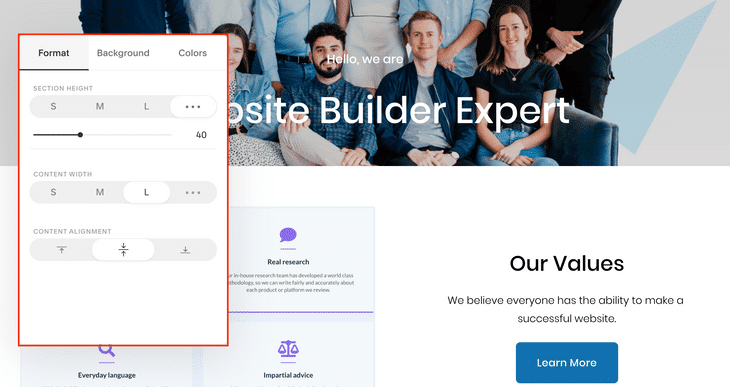 | | | | | |
| --- | --- | --- | --- | --- |
| Starting Price | Domain Renewal Price | Free Custom Domain | Free Version | E-Commerce on Starter Plan |
| $22/mo | $20 to $70/yr | Yes | 14 Days | No |
Squarespace is an invaluable asset for small business owners, and it provides creative services such as subscription-based product offerings. These streamline the process of setting up, managing, and expanding recurring subscriptions to help you grow your customer base.
Furthermore, businesses can keep their products well-stocked by taking advantage of Squarespace's efficient inventory and order management system. If you're selling customized T-shirts, you can easily set up an inventory tracking system with visibility settings and alerts to let you know when it's time to restock so you can deliver a smooth customer experience.
To top it off, Squarespace's product merchandising tool helps entrepreneurs create customized product detail pages that show off their wares in an eye-catching way.
If you rely on coding, it's worth knowing that its Personal plan doesn't allow users to use CSS or JavaScript, so you'll need to upgrade. But it does provide access to Google Analytics, so small business owners can still understand their website performance and the behavior of their customers.
Pricing
Squarespace offers an entry-level Personal plan suitable for individual use, providing unlimited storage, a free domain, and an ad-free experience.
The Business plan offers advanced website analytics and reporting for businesses, while the Basic Commerce and Advanced Commerce plans support e-commerce operations with essential and comprehensive features.
With a 14-day free trial available, users can explore Squarespace risk-free and select a plan that best aligns with their website-building requirements, making it an attractive and competitive option for individuals and businesses alike.

Pros
Merchandising tool helps create professional product pages
Renowned for its professional and creative website designs
Integrated e-commerce features
Cons
Personal plan doesn't allow users to use CSS or JavaScript
5. Shopify — Seamless E-Commerce Integration with Amazon
Shopify is a dedicated e-commerce platform that has gained popularity as one of the leading website builders for small businesses. It offers a comprehensive set of features and tools specifically designed for setting up and managing online stores.
With its user-friendly interface and robust e-commerce tools, Shopify provides a customizable solution for both small business owners and large enterprises alike.
| | | | | |
| --- | --- | --- | --- | --- |
| Starting Price | Domain Renewal | Free Custom Domain | Free Version | E-Commerce on Starter Plan |
| $39/mo | $11 to $14/yr | Yes | 3 Days | Yes |
Shopify is a great choice for small businesses looking to enter the online retail space, as it offers an extensive suite of e-commerce tools. From inventory management and secure payment gateways to customizable product pages, Shopify provides the features necessary to create an efficient and professional online store.
Small business owners can also benefit from seamless integration with Amazon. By connecting their store directly to the world's biggest marketplace, entrepreneurs can open up their products to millions of potential customers around the globe. You will no longer be limited to your local market and can expand into profitable new areas.
The convenience of mobile store management further sets Shopify apart from competitors. The Shopify mobile app allows entrepreneurs to continuously track sales, manage orders, and quickly respond to customer inquiries while on the go. This mobility ensures owners are always in control of their business operations and keeps stores running efficiently.
Pricing
Shopify's Basic Plan is ideal for small businesses and includes features like product and payment processing, whilst the Shopify and Advanced Plans offer additional features such as professional reporting and lower transaction fees. Most businesses that want to run a smooth operation will find a happy middle ground at the Shopify level, but the Basic plan is more than enough for many smaller businesses.
Pros
Scalability
Multi-platform selling
User-friendly interface
Seamless Amazon integration
6. Square Online — Quick Payments and Easy Website Building
Looking for the best DIY website builder for small business? Square Online is a versatile website builder specifically designed for small businesses, offering essential features for showcasing products and services.
Through Square Online's platform, you can create engaging webpages for customers, integrate retail sales directly into your e-commerce store, track performance analytics, and customize store branding easily through the drag-and-drop design feature.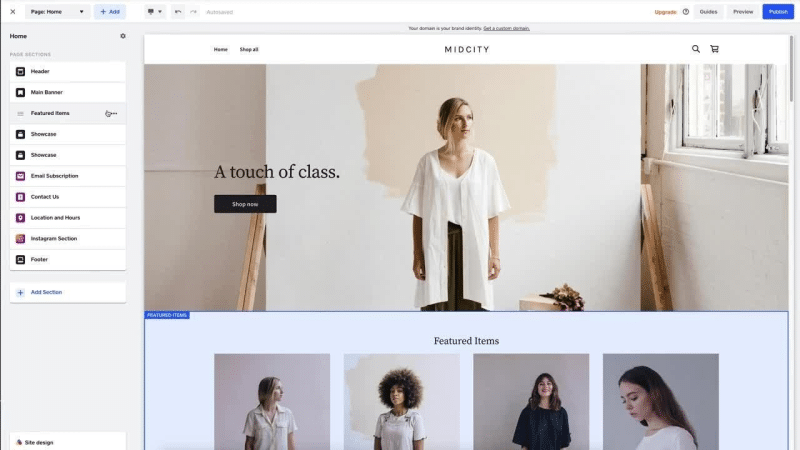 | | | | | |
| --- | --- | --- | --- | --- |
| Starting Price | Domain Renewal Price | Free Custom Domain | Free Version | E-Commerce on Starter Plan |
| $29/mo | $19.95/yr | Yes | 30 Days | Yes |
With Square Online, small businesses can efficiently point customers to specific products using special components to highlight new products, top sellers, sale items, or related items, effectively driving shoppers to the precise inventory businesses want to move.
Moreover, the platform enables businesses to plan and hype sales events in advance by scheduling product drops, discounts, and flash sales to launch automatically. Businesses can add banners and pop-up alerts to build excitement as the drop date gets closer.
The website builder offers a user-friendly interface and is particularly beneficial for businesses that require both an online store and a point-of-sale (POS) system. Square POS syncs seamlessly with Square Online, ensuring a smooth integration of in-person and online sales channels. Small businesses with brick-and-mortar stores or those seeking great value for their money will find Square Online a favorable choice.
However, it's important to note that Square Online does have some limitations. While it is an excellent option for small e-commerce businesses, it might not be as suitable for high-volume merchants due to limited customization and payment options.
Pricing
We rate Square Online as the best free ecommerce website builder for small business. Its Free plan provides plenty of value with features like online and in-person payments and delivery options. The Plus plan is ideal for growth and efficiency with expanded site customization, while the Premium plan suits high-volume businesses thanks to its lower processing fees.

Pros
Integration with Square POS
Designed specifically for online stores
Support for multiple sales channels
Cons
Expensive premium features
7. Ucraft — Designer-Friendly Landing Pages in No Time
Ucraft is a user-friendly website builder that empowers small businesses, entrepreneurs, artists, bloggers, and more to create professional and responsive websites without any coding experience required.
The Ucraft platform offers a designer-friendly platform that puts design flexibility at the forefront, making it an excellent choice for creative individuals who seek more control over their website's appearance.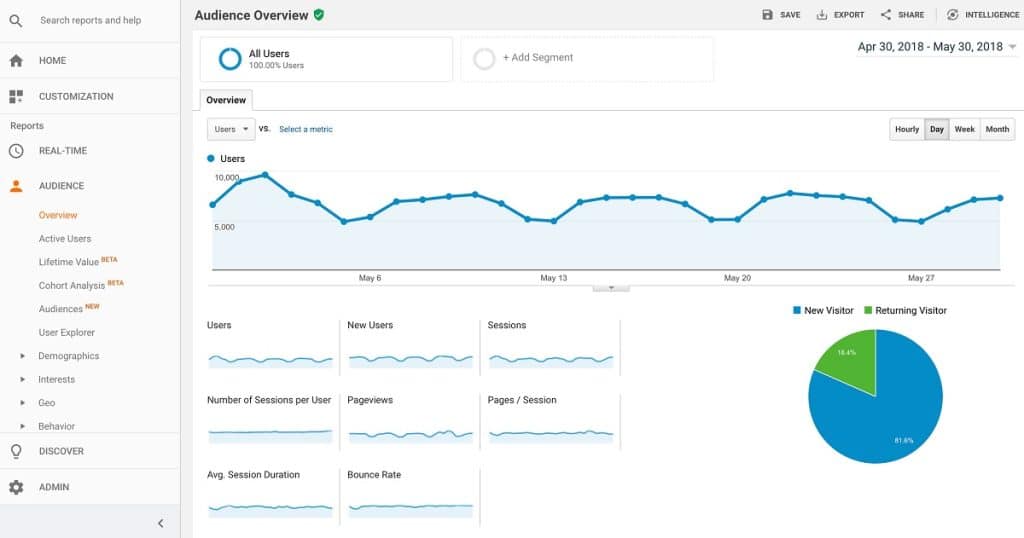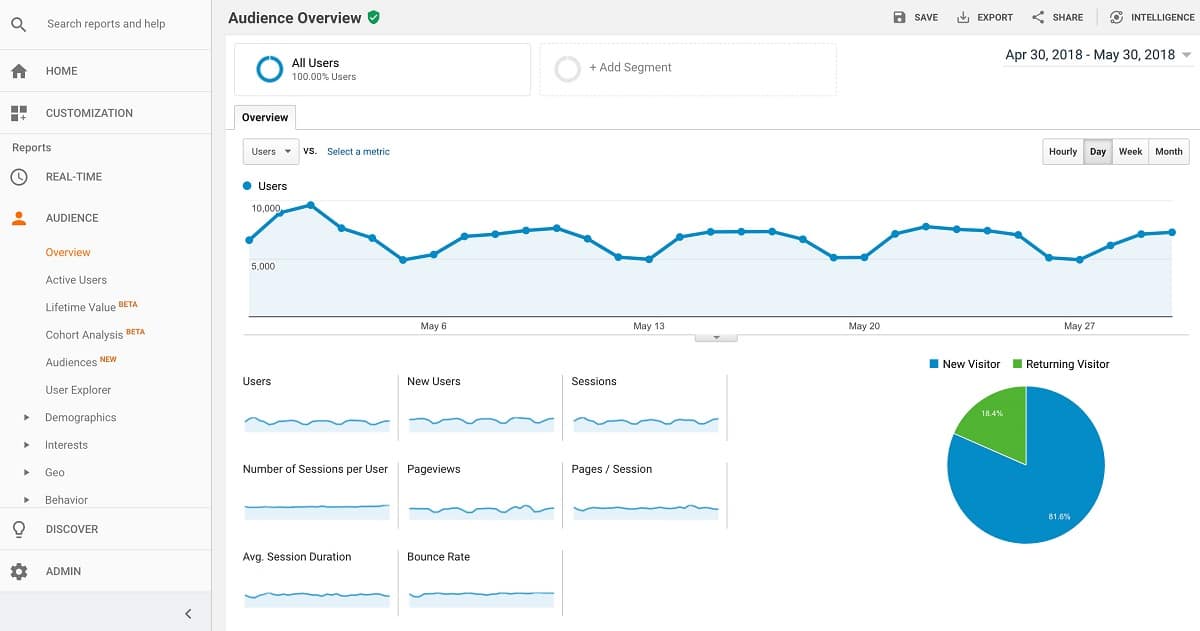 | | | | | |
| --- | --- | --- | --- | --- |
| Starting Price | Domain Renewal Price | Free Custom Domain | Free Version | E-Commerce on Starter Plan |
| $10/mo | Prices Vary | Yes | 14 Days | Yes |
One of the best features for small businesses is Ucraft's specialized landing page creation capabilities. These enable users to craft high-converting landing pages, which are essential for marketing campaigns and lead-generation efforts.
The ability to design and customize individual content blocks vertically gives businesses the freedom to create engaging one-page websites, landing pages, and more, helping them showcase their products, services, or events effectively.
Another valuable feature for small businesses is Ucraft's support for multilingual websites. With a built-in region switcher and HREF attributes, businesses can cater to a broader international audience, targeting specific languages and regions. This feature can be advantageous for companies that want to expand their reach and connect with customers around the world.
Despite its strengths, some users have mentioned that the available templates could be more diverse to better cater to different website needs.
Pricing
Ucraft's Free website option offers the necessities, although it does not provide access to tools like SEO, analytics, or e-commerce. Pro offers e-commerce features but does not offer much in the way of data management. However, there's no need to move up to Pro Shop or Unlimited if you are running a relatively small business.
website builder pricing" width="700″ height="183″ srcset="https://www.techopedia.com/wp-content/uploads/2023/08/image26-e1690955210376.png 700w, https://www.techopedia.com/wp-content/uploads/2023/08/image26-e1690955210376-300×78.png 300w" data-lazy-sizes="(max-width: 700px) 100vw, 700px" src="https://www.techopedia.com/wp-content/uploads/2023/08/image26-e1690955210376.png"/>
Pros
Great for showcasing images
Built-in security and analytics tools
User-friendly format with easy access to editing tools
Cons
Limited industry templates compared to others on this list
8. IONOS — User-Friendly Interface for Multilingual Websites
IONOS, formerly known as 1&1, is a website builder that caters to small businesses looking for quick and affordable website creation. It's the best free website creator for small business.
The platform's selling point is providing a high level of value at incredibly low prices. Its websites are built to be robust and reliable.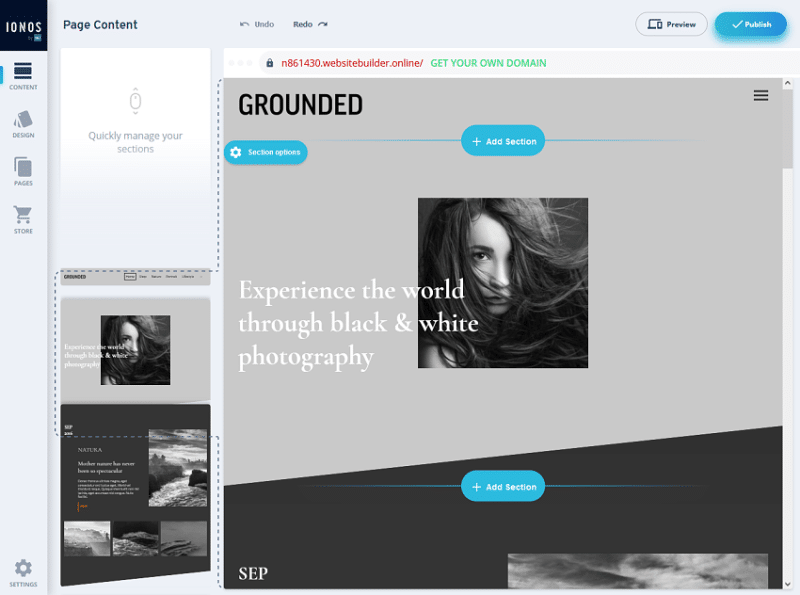 | | | | | |
| --- | --- | --- | --- | --- |
| Starting Price | Domain Renewal Price | Free Custom Domain | Free Version | E-Commerce on Starter Plan |
| $15/mo | $17 to $40/yr | Yes | 30 Days | Yes |
IONOS is an intuitive website builder that offers a user-friendly drag-and-drop platform with accompanying templates, images, and text blocks available for hundreds of industries. This eliminates the need for code without sacrificing quality – allowing small business owners to create their own online business cards quickly and efficiently.
The included customizable professional templates offer a wide range of design options to give entrepreneurs the ability to showcase their brands and present a polished online image.
To accommodate international customers, IONOS also integrates multiple language options, which are essential for companies striving for a global presence. It includes helpful in-editor SEO tools to maximize visibility and attract organic traffic through search engine optimization.
Note that IONOS does not offer e-commerce or cloud hosting, so if these are requirements for your small business website, you may need to look elsewhere on our list.
Pricing
IONOS pricing plans have a lot of crossover in terms of features, with all price points offering a one-year domain, a free professional email, daily data backup, and free support around the clock. The main differences can be seen in storage and capacity. The Essential plan offers one website and 10GB of storage, the Starter plan offers ten websites and 50GB of storage, and the more expensive plans are unlimited.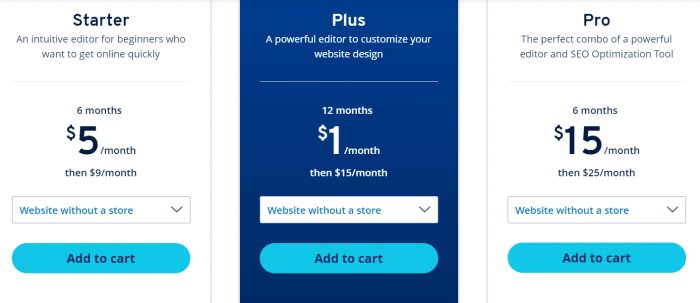 Pros
Professional design service offered by a team of expert designers
User-friendly interface and attractive templates
In-editor SEO tools
Cons
Lack of blogging and social media features
9. Weebly — Intuitive Builder with SEO and eCommerce
Weebly is a well-known website builder that has gained popularity for its drag-and-drop interface combined with an advanced feature set. With unlimited storage and bandwidth for most plans, Weebly ensures businesses can scale their websites without worrying about storage limitations.
The drag-and-drop editor makes it simple to add various elements such as text, images, videos, forms, and social media feeds. This convenience is especially beneficial for small businesses that don't have the resources to hire a web developer.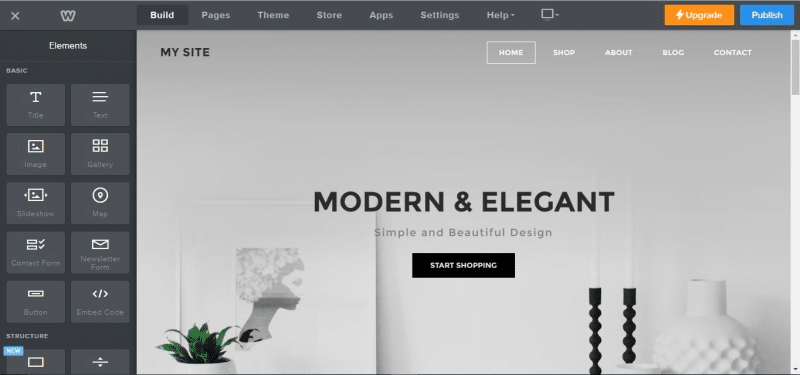 | | | | | |
| --- | --- | --- | --- | --- |
| Starting Price | Domain Renewal Price | Free Custom Domain | Free Version | E-Commerce on Starter Plan |
| $10/mo | $19.95/yr | Yes | Free Plan | Yes |
With built-in search engine optimization (SEO) tools, businesses can optimize their websites to improve search engine rankings and drive more organic traffic.
Weebly's e-commerce tools provide a streamlined solution for those venturing into the world of online retail – and it's arguably the best ecommerce website builder for small business. The integrated booking system is particularly useful for service-based businesses, facilitating easy appointment scheduling for clients.
While Weebly is a solid website builder for businesses, it does have some limitations that may not be deal-breakers but are worth considering. For instance, the platform's customization options are somewhat limited compared to other website builders. Users who are well-versed in HTML and CSS coding may find it challenging to make extensive changes.
Pricing
Weebly offers e-commerce features at all pricing levels, including with the free option. Digital goods are only available with the paid plans, however. Professional and Performance pricing will get you significantly more site features, too, with unlimited storage, custom domains, password protection, and analytics.

Pros
Particularly cost-effective for small e-commerce sites
Variety of templates and customization options
Free plan is great for basic stores
Cons
Not ideal for large e-commerce sites and advanced web builders
10. BigCommerce — Seamless Integration and Impressive Customization
BigCommerce is a leading e-commerce website builder designed to cater to a wide range of businesses, from small startups to large enterprises. It stands out for its scalability, offering many built-in sales tools and advanced SEO capabilities.
It's one of the best e-commerce website builders for small businesses. With a focus on multi-channel integration, BigCommerce aims to boost online businesses and help them thrive in the competitive market.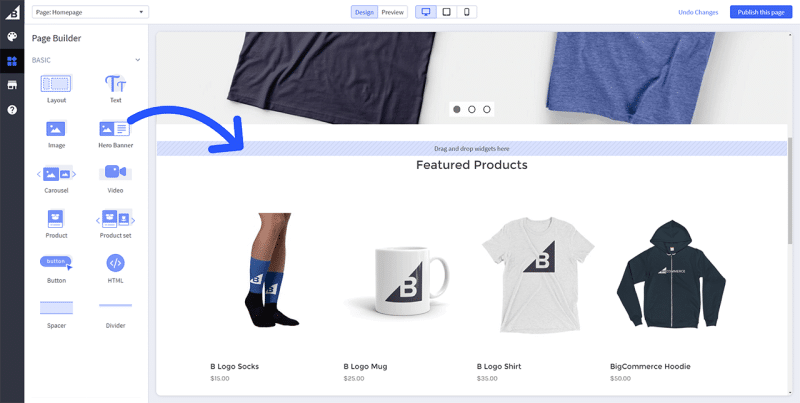 | | | | | |
| --- | --- | --- | --- | --- |
| Starting Price | Domain Renewal Price | Free Custom Domain | Free Version | E-Commerce on Starter Plan |
| $29/mo | $12/yr | Yes | 15 Days | Yes |
With its extensive tools and features, BigCommerce is a great option for small businesses looking to expand their reach and create an optimized online store. With no additional platform fees or commissions, it offers users the most cost-effective way of doing so.
Furthermore, the strong SEO support allows for improved search engine rankings, which can lead to more organic traffic and potentially increased sales. With its multi-channel integration capabilities, it's easy to link existing selling accounts across various marketplaces or social media platforms – so transitioning is seamless.
The scalability options ensure that businesses can start off at an affordable rate while still having room to improve as they grow. Tools for scalability, such as upgrade plans, allow small business owners to effectively compete in the market.
Pricing
BigCommerce offers plans ranging from Standard (entry-level) to Pro (for larger stores) and the Enterprise Plan (priced on a case-by-case basis). Higher price points will get you extra features like product filtering, customer reviews, price lists, and API support.

Pros
Extensive e-commerce features for businesses of all sizes
Scalable for business growth
Responsive templates for optimal user experience
Cons
Relatively expensive compared to other website builders
Comparison Table of the Top Website Builders for Small Businesses
In 2023, 2.64 billion people worldwide purchased goods online. It's no wonder that small businesses want to build reliable and effective websites to access the ecommerce market – so finding the best website creators to create your own website is critical. To help, here's a comparison table of the top website builders for small businesses.
Best Website Builder and Hosting For Small Business
Starting Price
Domain Renewal Price
Free Custom Domain
Free Version
E-Commerce on Starter Plan
Wix

$16/mo

$10+/yr

Yes

Choose 7, 14, or 30 days

No
GoDaddy

$9.99/mo

$0.99 to $14.99/yr
Yes
30 Days
No
Webador

$5.50/mo

Renewed with monthly subscription fee

Yes
3 Months
Yes
Squarespace

$16/mo

$20 to $70/yr

Yes
14 Days
No
Shopify

$39/mo

$11 to $14/yr

Yes
3 Days
Yes
Square Online

$29/mo

$19.95

/yr

Yes
30 Days
Yes
Ucraft

$10/mo

Prices Vary

Yes
14 Days
Yes
IONOS

$15/mo

$17 to $40/yr

Yes
30 Days
Yes
Weebly

$10/mo

$19.95

/yr

Yes
Free Plan
Yes
BigCommerce

$29/mo

$12/

yr

Yes
15 Days
Yes
What's the Best Free Website Builder for Small Business Needs?
We've mentioned several best free website builder for small business here, such as Weebly and Ucraft, but it's essential to remember that the features included with a free plan are usually quite limited.
For small businesses looking to build a website, investing in a paid website builder is likely going to be the best option, as they will receive access to more advanced features such as e-commerce solutions, better SEO tools, and design customization.
Paid plans often have detailed tutorials and support options for users, which makes them easier to use than free builders.
Ultimately, if you're serious about creating a website, significant discounts are sometimes longer-term. Business owners should seriously consider investing in one of these paid website builders rather than relying solely on free services, making a website that may lack key features or offers a less reliable user experience overall.
How to Choose the Best Website Maker for Your Business
If you're looking to set up a website for your business, there are several key factors to consider when choosing the right website maker.
SEO
Search Engine Optimization (SEO) plays a pivotal role in determining your website's visibility on search engines like Google, Bing, and Yahoo. A website maker that incorporates robust SEO features can significantly attract organic traffic to your site.
Look for platforms that allow you to customize meta tags, optimize page speed, generate SEO-friendly URLs, and integrate with analytics tools to track your website's performance.
Use Case
Consider the primary purpose of your website. If you aim to set up an e-commerce store, you'll need a website maker that specializes in creating online shops with essential features like product listings, shopping carts, secure payment gateways, and inventory management. On the other hand, if your focus is on a portfolio or informational site, your requirements may differ.
Pricing and Scalability
Budget considerations are crucial for businesses of all sizes. Assess the pricing plans of different website makers and determine if they align with your budget. Additionally, examine their scalability options – your website's needs may grow over time, and a flexible platform that can accommodate expansion is beneficial.
Domain and Hosting 
Make sure your domain name – the "www" address people use to access your website – is included with any package you purchase from a website maker, along with hosting options so visitors can view it on the Internet.
It's also important to check if they have additional domain name options in case you want something beyond .com, like .biz or .net, available at an extra cost. If your chosen web builder doesn't offer domain hosting services, you can check out our list of the cheapest hosting provider here.
Customization Options
Every business has unique branding needs. A website maker that offers a wide range of customization options, such as templates, color schemes, fonts, and layout flexibility, allows you to create a website that reflects your brand identity and stands out from competitors.
How Do I Create My Own Business Website?
Creating your own business website has become easier than ever with user-friendly website builders like Wix. Wix is a popular platform, as easily one of the best website builders, that allows you to create a professional and visually appealing website without any coding knowledge. Follow these basic steps to get started with Wix and build your business website:
Step 1: Sign Up and Create an Account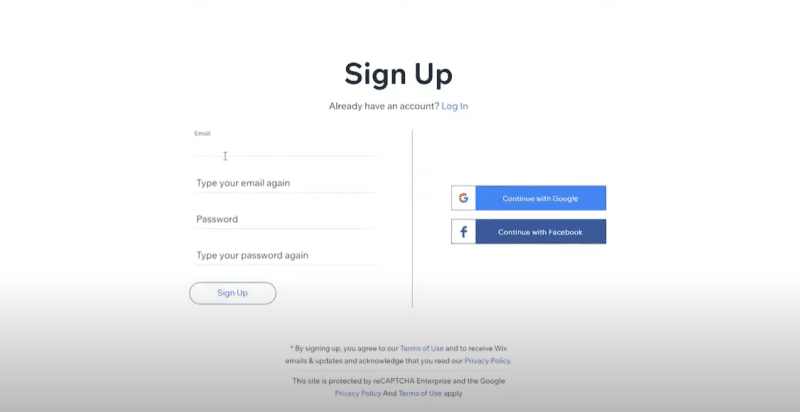 Step 2: Choose a Template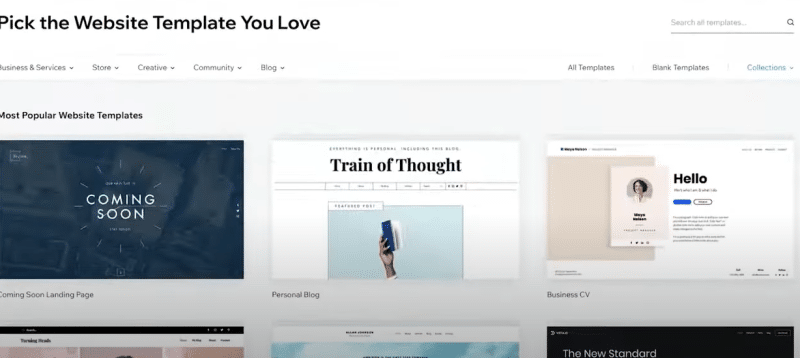 Step 3: Customize Your Website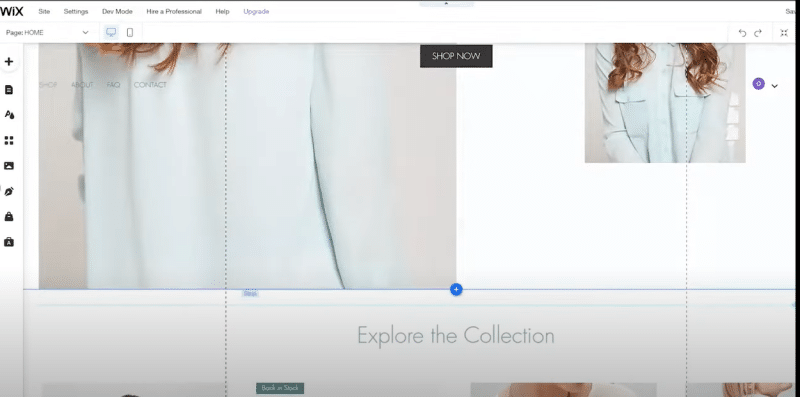 Step 4: Edit Your Content and Products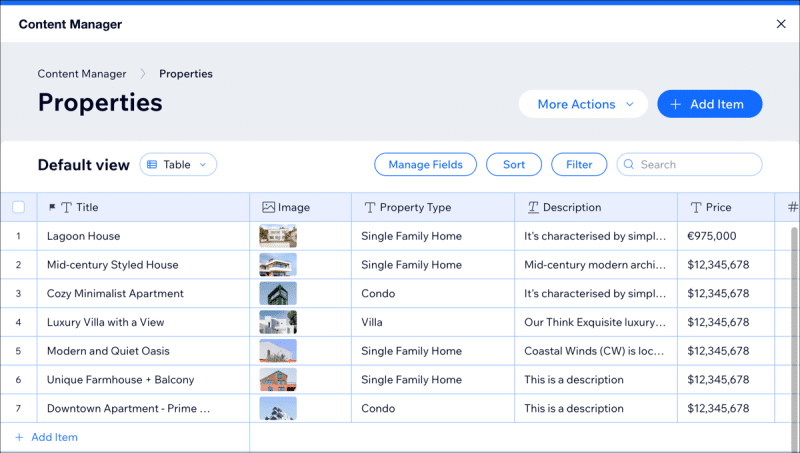 Step 5: Set Up Your Domain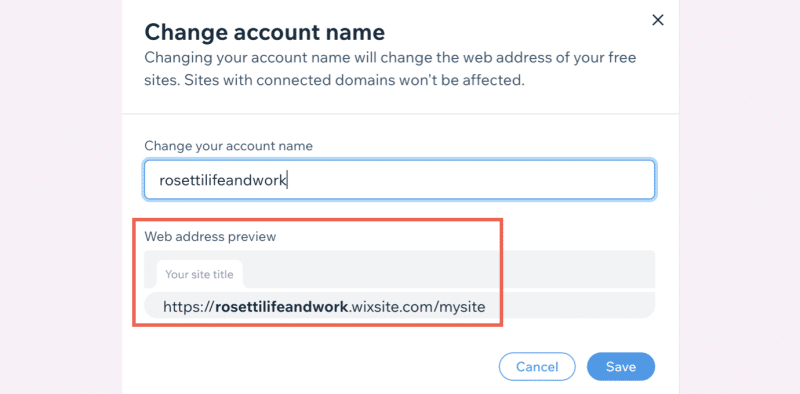 Step 6: Optimize For Mobile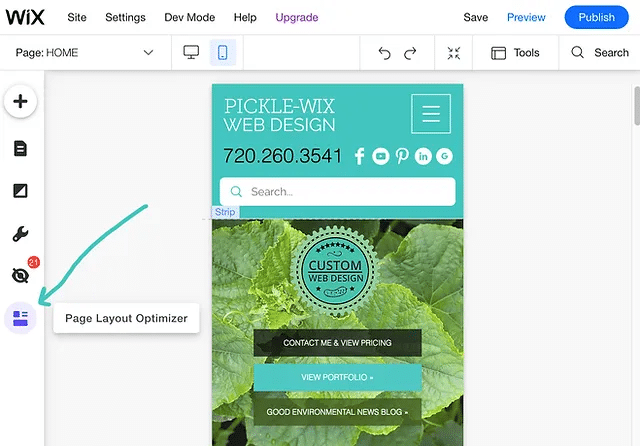 Step 7: Set Up SEO (Search Engine Optimization)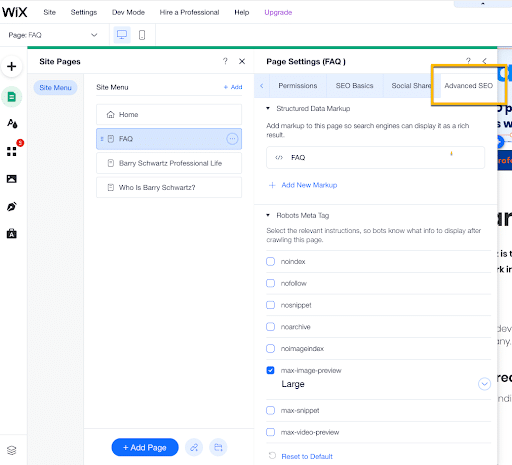 Step 8: Preview and Publish

Your website is now live, but the work doesn't end there. Regularly update your content, add new features, and stay responsive to customer feedback.
Conclusion – What is the Best Website Builder for Small Business Needs? Wix
There you have it – those were the top 10 website builders for small business needs, and we determined Wix to be the best of them all. It offers an intuitive drag-and-drop interface, powerful industry-standard features, a wide range of custom designs and layouts, plus easy integration with other tools like Shopify and G Suite.
With such a comprehensive package, Wix is a worthy choice for any small business wanting to grow online.
Small Business Web Builder FAQs
Is Wix a good website for small business needs?
What is the easiest type of website to build?
Which is better, Wix or WordPress?
Does Wix own your content?
Can I build my own website for free?
Can I build a website with no experience?
Related Posts